Dated: 7:54am on Monday 10th June 2019
Learn New Tips and Tricks About Calling pockets, Common Fouls, Breaking off, Using spin And More
If you have just started 8 Ball Pool for the first time or just want to learn a few new tricks to improve your game, well we have got you covered. We have also included some questions we get asked a lot on our Facebook pages and on Twitter.
We have even got tips on how to become a top 8 Ball Pool player.
Game Rules
Calling pockets
To call a pocket all you need to do is click the pocket you want to pot the ball into. Some of the mid-ranked tables require you to call the pocket on the 8 Ball and the higher rank tables require you to call a pocket for every ball.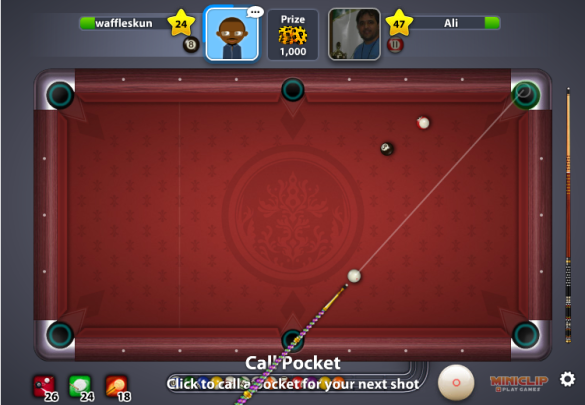 Common Fouls
Fouls that will result in a ball in hand for the other player
Running out of time: you have a short amount of time to take your shot, so don't take too long or play passes to the other player. Your time gets a little shorter with every ball you pot in a game.
Cue ball not hitting your own balls: if the white doesn't make contact with one of your own balls before hitting your opponent's balls, or it misses altogether, this is a foul.
No ball hitting the rail: if neither the object ball nor the cue ball hit the rail around the edge of the table, this is a foul. This is to designed to prevent negative play
Potting the 8 Ball: the following situations are fouls, and result in the win being awarded to the other player.
Potting the 8 Ball before all your object balls have been potted.
Potting the cue ball and the 8 Ball on the same shot.
Potting any coloured ball before the 8 Ball on the same shot.
In a tier that requires calling pocket on the 8 Ball, potting the 8 Ball into an uncalled pocket.
NOTE:Potting the 8 Ball from the break off shot is not a foul. The 8 Ball will be respotted on the table, and play passes to the other player.
Game Mechanics
Breaking off
If you get to break off, you can move the cue ball anywhere in the space to the left of the white line.
If you pot one of more balls during your break you get another turn. However, the table will remain "open" so you can choose if you want pot the spots or stripes.
However, any spotted or striped balls potted during the break won't count until you pot either pattern during your next turn.
If you pot the cue ball on your break, the opponent gets a ball in hand.
If the 8 Ball is potted on the break, if it will be placed back onto the table.
Having a ball in hand
You will be able to move the cue ball anywhere on the table. Hover the mouse over the cue ball and it will change to a hand symbol for you to pick the ball up.
On Mobile just swipe to drag the ball around the table.
Using spin
Spin can help you better position the cue ball after you've taken a shot, setting you up for your next one. You can also use it to snooker your opponent or stop you from potting the cue ball on your turn.
You can put spin on the ball by moving the red symbol on the cue ball with your mouse or using the arrow keys. That will cause the ball to spin in that direction after it's hit a ball.
On Mobile, all you need to do is tap the cue ball in the top right of the screen and move the red circle to apply spin in that direction.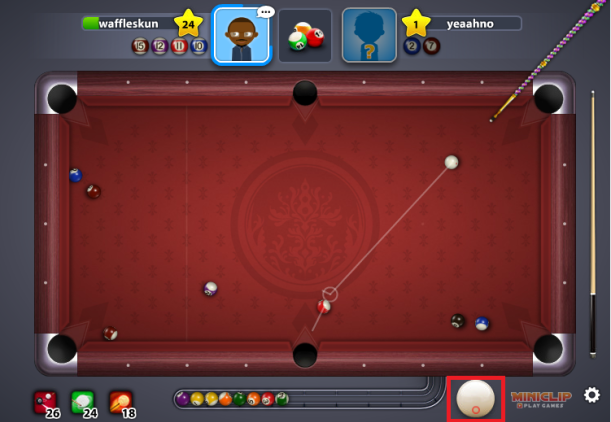 Challenging/adding friends
You can challenge your Facebook friends if you've linked your Facebook and Miniclip accounts. Check our knowledge base to see how.
You can search for a user if you know their player name. NOTE: players will only show up in search if they are online.
You can search using user IDs (Mobile only).
You can add a player by clicking the "plus" sign on their profile picture.
How do I earn coins/cash for free
You can earn 25 coins every 30 mins on Web and 1 hour on Mobile. Tap of the Free Coins button to get the coins.
You can also watch short adverts to earn coins.
You earn 1 Pool Cash each time you level up.
If you get to play against Big Rob during Beat the Boss you could win 50 Pool Cash!
Mini games
Spin & Win
Spin the wheel to win a variety of prizes. The top prizes are pretty rare, but thousands of Lucky Cues are won each day! You get one free spin each day you log in.
Scratch & Win
Scratch the cards to match 3 and win big. Not every card is a winner, but the prizes tend to be higher than Spin & Win.
Hi-Lo
Guess if the next number will higher or lower – you can win up to 250k coins! You can cash out anytime over 500 coins.
Commonly Asked Questions
If you want to use a photo as your picture
Unfortunately, you cannot add a personal picture from your hard drive of photo album to your profile.
However, you can use one of your Facebook photos instead of your Yo-Me when you use the Facebook connect. In this case, your profile picture from the Facebook account becomes your Yo-Me picture.
Learn how to connect using your Facebook account here and how you can choose between your Facebook name and your username or your Facebook picture or Yo-Me, here.
If your issue requires more help you can contact our super-friendly Support team
Support also have an extensive knowledge base where you'll probably be able to find a solution to your issue.
You can also contact Support directly and submit a ticket here or email support@miniclip.com.
Using the Pool Shop
You can buy Pool cues, table frames, colours, patterns and chat phrases and Pool cash.
You can also buy Pool Coins and Cash.
Cues With Powers: cues have different statistics, and choosing the right one for you is important!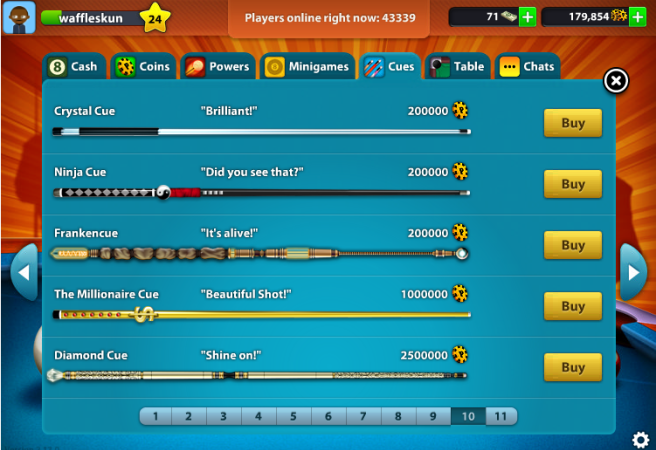 How to turn chat phrases on/off, reorder phrases
Go into the settings menu, you can choose to ignore all chat phrases or not.
In the settings menu you can move your favourite chat phrases to the top of the list for easy selection during a match.
Beat the Boss
Open to all users. They can challenge Big Rob, the Miniclip CEO! If they win they get a special award and 50 Pool Cash. We will announce the event on our Facebook page so keep an eye out.
Check FAQ to find out all about Beat the Boss.
Can I practice alone?
If you are playing on Mobile you can practice for 25 coins.
There is no practice mode on Web but you can play our other pool game,Quick Fire Pool.
Can I send you a trickshot video?
Yes, you can attach it to a Facebook message, send us a YouTube video or email us at social@miniclip.com.
Check out the trickshot masterclass videos on our YouTube channel to see the best.
Will you add free chat?
Sorry, but we won't be adding unrestricted chat to our game. This is why.
I'm playing on PC, can I play my friend on Mobile?
Unfortunately not. You can only play against people using the same device e.g. both on PC or using iOS and Android devices. Note that you don't need to have the same device: an iPhone user can play an Android user, for example.
Will you release 8 Ball Pool on Windows Phone?
There are currently no plans to release 8 Ball Pool on Windows Phone.
We hope that this has given you a great start to your 8 Ball Pool career.
This Website is not affiliated with 8 Ball Pool. trademarks are the property of their respective owners. Game content and materials copyright 8 Ball Pool. all right reserved.