Dated: 7:54am on Monday 10th June 2019
Strategy Guide About Attack, Boss, Elements, Gems, Heart Gem, Monsters, Fusions, Evolution, Quests, Raids, Troops And More.
Battle Mechanics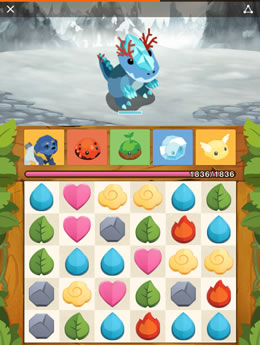 Boss Fight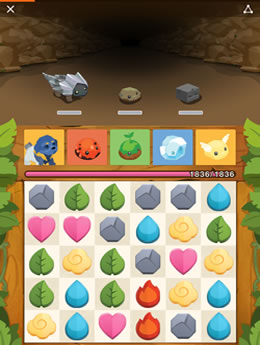 Line up those Gems
How to Launch an Attack : There is a Monster in your Team, or several of them. It will launch an attack towards the enemy if you manage to combine a line, or multiple lines of 3 or more identical gems that matches the element of the monster.
Detail of Elements :
The elements are also stronger against other elements and weaker when receiving attacks from others, below is the Element Battle chart, when an element has an advantage over other, it will deal more damage:
Elements are : Water, Leaf, Wind, Fire and Stone.
Water >> Fire
Fire >> Leaf
Leaf >> Water
Wind >> Stone
Stone >> Wind
AoE Attack : In case you manage to combine 5 gems, any Monster in your team with that element will not attack one but it will attack the entire group of enemies.
Displacing Gems : if you drag a gem and take through other gems, you can change their positions as well. As long as you hold the gem you can keep changing other gem's positions until you manage to get multiple combo lines. This technique becomes somehow essential to win more advanced fights when battling powerful enemy teams. This permit you to have lower level monsters fight high level monsters
As and when you tap on a gem, the timer starts running out, if you did not finish placing the gem after it reaches 0, you would not be able to keep moving it and it will stay that way.
Important Note : Heart Gems are also there. Hearts, when matched in lines of 3 or more, will allow you to refill the energy bar and keep fighting.
You can only have a certain amount of monsters in your inventory, counting those in your team and in your inventory, but new slots are added as you level up..
The maximum amount of energy is 5 and that cannot be changed or increased.
Know About Monsters
Presently, there are currently a total of 289 Monster waiting to be discovered. You can always check the monster you have discovered yourself by heading to the catalogue, in the "MgmT" menu which is next to items. The Monster Categories are : Common, Rare, Super, Ultra and Epic. Although Common and Rare monsters have a single element, higher categories may have two or more elements.
List of Monsters in Battle Camp
Monster

Element

Attack

Health

Recovery

Stabslab

Rock

Cromagma

Fire

Whirlybud

Leaf

35

245

45

Frostbite

Water

Wingding

Wind

34

250

46

Landmask

Rock

48

312

56

Hotspot

Fire

Leafling

Leaf

Wetwilly

Water

Nimbus

Wind

45

318

58

Rubbleyell

Rock

Atomizer

Fire

Killypad

Leaf

Slushbug

Water

Battlebird

Wind

Craggy

Rock

Lavajaw

Fire

Underbrush

Leaf

Tankfish

Water

Puffbelly

Wind

Craterous

Rock

Radicoal

Fire

Thrashberry

Leaf

Jawsless

Water

Megamist

Wind

Quartzalcoatl

Rock

Vulcano

Fire

Kabloom

Leaf

Snowpeak

Water

Cloudcover

Wind

Crumbler

Rock

Glohawk

Fire

50

350

60

Florabonita

Leaf

Brainfreeze

Water

Cottonsail

Wind

50

350

60

Key Lime

Baking Soda

Devil

Light

Wind

egeneric

Eboncalf

Rock

Foxfire

Fire

105

722

113

Tortoice

Water

Veeppeep

Leaf

Slyclone

Wind

Ebonbull

Rock

Bonfoxfire

Fire

Wartoice

Water

Chiefpeep

Leaf

Slyphoon

Wind

Enormant

Rock

Embertail

Fire

Hippocrush

Water

Planda

Leaf

Wonderbun

Colossant

Rock

Embertooth

Hippocrunch

Water

Giantplanda

Leaf

Thunderbun

Kongcrete

Rock

Killavolt

Fire

Frigideer

Water

Mudball

Leaf

Skywolf

Wind

Silikong

Rock

Killawatt

Frigistag

Mudblossom

Stormwolf

Rockhead

Rock

Smokeybear

Fire

Iguatic

Water

Woolstock

Leaf

Twooster

Wind

Hornhead

Rock

Flarebear

Fire

Igcicle

Woolapalooza

Roostorm

Rockodile

Rock

Kaboarki

Fire

Aqualope

Water

Leafmur

Leaf

Discoprancer

Wind

Rockjaw

Rock

Kaboomki

Fire

Aquabuck

Water

Leafchief

Leaf

Discomancer

Wind

Armordillo

Rock

Serpyre

Fire

Wotter

Water

Strawbunny

Leaf

Knightowl

Wind

Armorkillo

Rock

Pyrethon

Fire

Mightwotter

Water

Wildbunny

Leaf

Generowl

Wind

Pigrate

Pigtain

Peacfowl

Tranqowl

Boomdog

Doomdog

Dyngo

Springo

Wellhound

Floodhound

Foghound

Wind

Cloudhound

Wind

Hardrocker

Magmadon

Freezaur

Water

Yggdrassic

Leaf

Pterosoar

Ragnarock

Magmarog

Freezrex

Water

Yggdrasaurus

Leaf

Soaron

Rockbottom

Backburner

Fire

Slushguppy

Powerplant

Leaf

Terrordon

Rocktops

Backblaster

Toughguppy

Flowerplant

Terrordactyl

Crog

Rock

Firebat

Swampsting

Treepir

Leaf

NoseBlower

Bullcrog

Fireflyer

Swampgash

Treeprince

Noseblaster

Jollydon

Jollyrog

Taodon

Taosaur

Darkwolf

Wind

Nightwolf

Wind

Shalemail

Raptorch

Lochnessy

Herbevaurus

Odinstweet

Shalemor

Rapscorch

Lochcroc

Herbvaurlord

Odinsbird

Bouldoise

Firemane

Snowmonk

Anacactus

Windbeaker

Mountoise

Firefighter

Shaomonk

Kingcacbra

Windbender

Corsairlord

Roguescorch

Taobeaker

Taobreaker

Taomane

Taofighter

Bonedome

Rock

Taillight

Fire

Lakesnake

Treeleaf

Leaf

Technicaller

Baronbones

Smashlight

Lakedrake

Grandtree

Techniconqueror

Sapphighter

Slowburner

Fire

Inkwell

Water

Triapet

Skyrin

Wind

Sappharmor

Woeburner

Inktank

Water

Treebble

Skion

Wind

Wrathfire

Blightfire

Wavyjones

Crossbones

Navyjones

Clashbones

Lightfoot

Featherfoot

Flamecalf

Fire

Flamebull

Fire
Each monster has its own place in the world of Battle Camp, this means that they can found and grind in a certain area. for instance, basic monsters such as winding are found at the Camp.
Besides the Map Drop Location, you still require to battle that specific monster in the area. After you win the battle against the monster, it can either drop soft currency or a puzzle piece. Rare, Epic Monsters may need more than two pieces to be created. Common monster only need a single piece to be created.
Completing Puzzle : Even after you gathered the particular puzzle pieces for a monster, you will have to wait a certain time before they are assembled. You can hurry it up by using hard currency though.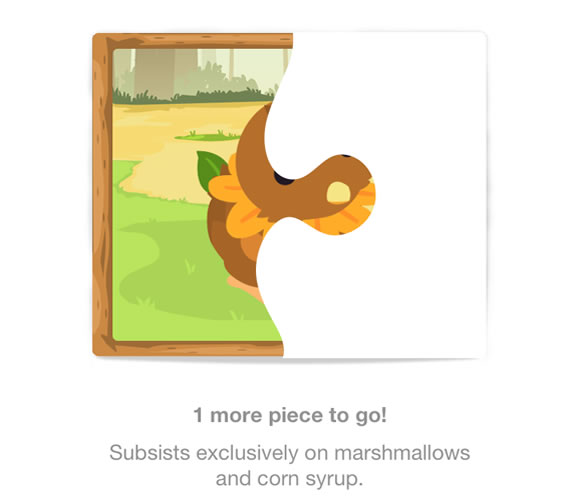 Deposit : There is a deposit button in the monster screen which allows you store a Monster if you want to keep it but dont want to occupy slots. You cannot store puzzle pieces.
Fusions
Monsters do not level up by taking them to battle. The leveling process is carried out by doing "Fusions". What you do during a Fusion is sacrificing a monster to level up another one. If the monster being sacrificed has the same element of the one being targeted you will get bonus leveling XP points. Of course, the higher the level of the monster being sacrificed, the more leveling points you get for the targeted monster. "Special" monster grant a huge amount of leveling Xp if sacrificed in a fusion.
There is a Fusion Menu which you can access by tapping on your monster in the Management menu, for each monster you add to be sacrifice, the currency cost increases.
Evolution
There are some Monsters which can evolve to another version, supposedly more powerful than the previous one. In order for this to happen, you need to have two identical monsters and 4 special monsters that meet the requirements. Only Rare or above monsters can go through the evolution process.
Evolution does have pros and cons, we created a separate guide to explain how Battle Camp evolution works in detail.
Quests
There are own set of quests according to location. As you unlock new Map Areas, the list of quest of that area will get added to the quest log. Also, the "sun" icon in the quest log gives you access to the Daily Quest.
Raids : Raids are there besides individual quests, you also be able to join group raids [The quest for the lost kitty, tacos are awesome, rock monster of ages and Hallmark the Occasion]. Do not mistake Raids with Events. Raids can be carried out only if you belong to a Troop.
Troops
Troops are the equivalent of alliances in other games. If you join them, you will be able to carry out raids. You can create you own Troop once you reach leavel 8.
Events
Events are timed and depending on the amount of trophies you get, you are given different rewards, such as Epic Monsters, Grabs, etc.
Use the Event Grab to help. Event Monster do bonus damage to the bosses. Epic Event Monster available in the Event Grab starting halfwar through the event, unfortunately, Event Grab costs gold.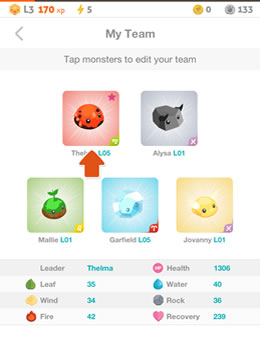 Team Editing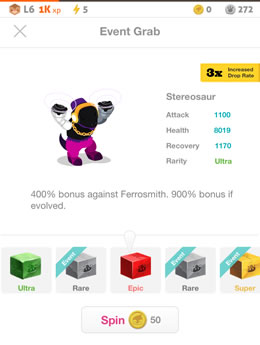 Event Grab
My Team
If you tamp on the "Management" button on the top bar and then on "My Team" button, you access the Monster Team menu, there you can start editing your team by tapping on each monster.
There you can swap monsters by tapping on them
Store
There is a store which not only contains premium objects (such as the avatar shop) or monsters, it also gives you access to some neat features, called Grabs, where you spin a machine, getting different chances depending on the type of machine you are using.
Ultimate Grab
Monster Grab: This Monster Grab you will be spinning the most, you get a lot of Monster Grab spins from completing quests.
Special Grab
Avatar Grab
Avatar Shop
Important Tips of Battle Camp
It is advisable to stay in the Camp area until you are done with most quests, by doing so, you will learn the proper way to move the gems, and get at least 1 rare monster and level up your character.
Go to the new area as soon as you unlock it, the first missions in new areas grant a large amount of XP when compared to the latest quests given in the previous area.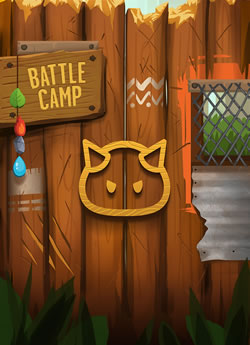 Logo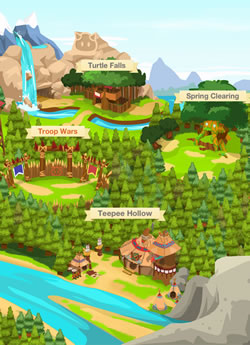 The Map
Referral Code
Now, you have to enter the Referral Codes?. A window should be prompted automatically asking new players to enter the code. It only works with facebook contacts though.
In case you manage to get new players to play the game and enter your referral code, you will get one Darkwolf Piece for each one of them and your friends will receive 1 ultimate grab spin.
This Website is not affiliated with Battle Camp. trademarks are the property of their respective owners. Game content and materials copyright Battle Camp. all right reserved.