Dated: 3:03am on Thursday 9th July 2015
Strategy Guide To Death Grip, Hunt The Nemesis, Hulls, Fleet, Baser, Salvage Hauler, Sub Fleet, Rocket Lab, Retrofit Lab, Draconian Retrofit, Missile Baser, Forsaken Missions And More.
A word of caution before we begin. Many of the topics covered here will take time to research and apply. So always try to think ahead when planning out ship builds and research at this stage in the game. You can always head to the forums if you have a question about a ship build or base layout. There are many helpful users there who will gladly give you tips.
DEATH GRIP - AT LEAST PRIZE PACK 1
You want to focus on this first, because the Mauler is an extremely potent mid game hull that's going to propel you into the next phase of content. Specifically, allowing you to hit higher level Forsaken mission targets to earn better technology. This first prize pack also contains almost everything you'll need to equip on that Mauler for success.
You will want to make sure you've completed every other low level Campaign before starting this Campaign, and have at least one of the Sea Wolf missile fleets from the previous guide at your disposal.
Make sure you've researched and constructed a Medium Orion rocket before attempting this campaign.
Your best bet would be to wait for a monthly event, then activate this Campaign. You can read more about them. This method allows you to reap the half repair time bonus that is active during events, which will allow your Sea Wolf fleets to instantly repair.
You should be able to clear targets 1-4 with your Sea Wolves, although this may take some time, and have a heavy resource investment.
Target 5 is a whole other animal. You are going to need an armored fleet and a little bit of luck to get through this target.
For your first hit on this target, bring in one of your Battle Barge A fleets. Focus fire on the two missile turrets that are immediately in range and destroy them, then take out the Draconian gate protecting the base. Then, retreat.
A single medium Orion rocket will destroy almost all the Javelin turrets in this target with good placement. Drop the Orion rocket before bringing in your Sea Wolf fleet.
Once you've dropped the Orion rocket, bring in your Sea Wolf fleet.You're going to want to use your missiles to destroy the Missile Cruiser at the front of the base. This may take a few hits, but keep at it.
The last hit is the hard part. The large Draconian ships you see are called Guardians, but they are equipped with Mortars that you should be able to outrun. You want to keep moving; if you stop all of the mortar fire and turret fire will connect and destroy your wolves.
Prioritize the Flak turret, then the small Battle Cruiser, and then the Missile Cruiser X. This may take a few hits, but your Sea Wolves are repairing instantly, so keep at it.
After you have killed those ships, clean up the rest of the turrets and destroy the guardians with missile fire outside of their mortar range.
​
HUNT THE NEMESIS - AT LEAST PRIZE PACK 1
Using your Sea Wolves, and Mauler Fleets, complete prize pack 1 and get the Mercury, it's an amazing open-water boat.
Which prizes are worth attempting to do mastery run on?
Eye of the Storm has a decent prize pack and contains a very POWERFUL baser hull as a mastery prize, but this task is very difficult to attain.
HULLS
What hulls do I need? This is a pretty common question. There are really only a few types of hulls so you are going to want to build a few fleets of hulls that can perform each role. You can read more about each role, and hulls that best fit into that role, below.
FLEET VS FLEET
Fleet vs Fleet is the type of combat that takes place on the open water. There are no land tiles here, and is entirely comprised of ship based combat. Speed, maneuverability, and range are king out on the open water. Fleet vs Fleet hulls will most often do VERY poor in Base combat.
Examples of prime Fleet vs Fleet hulls:
Stingray - A fast, maneuverable, ballistic heavy hull. When built right, this hull is very potent.
Sawfish - The little brother of the Stingray.
Interdictor - A Draconian hull that has built-in sonar and the ability to equip torpedo weaponry, this hull can pack quite the punch.
Mercury - A Forsaken missile hull, this hull has the speed and maneuverability to be successful in open water.
BASER
Baser type hulls are usually extremely heavy, and are able to equip very powerful ship to shore weaponry. They excel in combat where turrets and other defensive structures are built on land or Draconian combat patforms. However, you must takecare that you don't get caught on the open water.
Mauler - A potent heavy hitter, able to equip siege missile or siege mortar weapons, this hull can take on mid-range bases with great efficiency.
Triton - One of the strongest ships available in the Forsaken armada, this beast can carry a bristling array of weapons. With additional bonus to building damage built into the hull, and innate bonuses to counter measure systems, the Triton is an extremely versatile Baser hull.
Dreadnought X - The pride of the Draconian Navy, this extremely dangerous hull is able to equip the heaviest mortar technology. Forsaken captains observing this hull in combat have referred to it as the "Black Rain". As its mortar shells pound land-based targets, this hull in action is a terrifying sight to behold.
SALVAGE HAULER
Salvage Hauler hulls aren't meant for combat-heavy engagements. This weakness does not make them any less valuable; they are most often used by Forsaken captains to pick up leftover resources from Draconian salvage fleets.
Floating Fortress A - The first Salvage Hauler you have access to, you can retrofit it to increase its resource hauling capacity even more.
Super Fortress - This blueprint hull can carry HUGE amounts of resources allowing you to go on extended salvaging missions before needing to return to base.
SUB FLEET
Submarine fleets are high risk, high reward fleets that, when piloted well, allow Forsaken captains to lay waste to most fleet-based targets without ever being seen.
Predator Submarine - The lowest level sub, this extremely stealthy sub is able to handle low level Draconian fleets with ease.
Barracuda - This lightning-fast submarine has high stealth and speed, but sacrifices dive time, making it very good for open water hit-and-run attacks.
Spectre - Arguably one of the strongest submarines in the game. With the longest submerge time available, this hull is able to destroy nearly every Draconian salvage fleet it comes across.
ROCKET LABS - ROCKETS, THEY'RE GOOD
WHICH ROCKETS SHOULD YOU RESEARCH?
Bunker Buster- As listed in previous guides. This rocket is best used for surgical strikes on priority enemy targets. Things like enemy defense platforms that you know will be problematic for your attacking fleet can be eradicated from long range with a single Bunker Buster rocket.
Pinch Rocket- One of the most powerful tools in the game for attacking bases. This rocket will, after a short countdown, stun targets in a fairly large area, for a decent amount of time. This can allow you to move ships into a better firing position or simply rain damage down on a target without it returning fire. A powerful tool, so use it often.
SHOULD I FOCUS ON SMALL, MEDIUM OR LARGE ROCKETS?
Your best bet is going to be to focus on small and medium rockets at first. Having access to a medium Pinch or Bunker Buster rocket will go a long way when attacking specific base targets.
RETROFIT LAB
What to retrofit? By this point you should have unlocked the Mercury and the Mauler. It is recommended that you begin retrofitting these two hulls ASAP.
Mauler Retrofits- The Mauler retrofits further solidify its role as a base combat hull. Its retrofits further boost its combat statistics, making it more versatile.
Mercury Retrofits- The Mercury retrofits increase this hull's combat effectiveness in Fleet vs Fleet combat. Boosts to Penetrative Reload and Evade are very valuable and are worth picking up at the higher retrofit levels.

The great thing about retrofits are that you can be working on them while you are also building the hull that's being retrofitted, so start retrofitting right away!
DRACONIAN RETROFITS
Draconian retrofits cost Uranium. A rare and valuable resource, you'll want to consider Draconian retrofits carefully before starting them. If you're ever unsure of which Draconian retrofits to focus on, you can always ask other players. There are many different opinions about which Draconian retrofits are the most valuable. However, one thing to keep in mind is that if you need a fleet to perform a specific role, and that fleet is Draconian, retrofitting that fleet may be a valuable investment as it will allow you to perform that role even more efficiently.
OTHER RETROFITS
Almost every hull available is in the Retrofit Lab and able to be upgraded. If you find yourself using a particular hull with great regularity, check the Retrofit Lab. If it is available, then consider spending the resources and time to upgrade it via the Retrofit Lab to increase its combat effectiveness.
BUILDS
There are quite a few builds that you're going to want to finish up, if you have not yet.
Retrofit Lab- If you have not yet, go ahead and finish upgrading this to level 5, now.
Intelligence Lab- Upgrade this, as well; take it to level 10. You're going to start finding blueprints, soon, that require having a high level Intelligence Lab.
Dock- Take your Dock to level 10 as well. The Dock will drastically increase the weight of fleets you're going to be able to use, and you're going to need that fleet weight for Maulers and Mercuries.
Shipyard- Upgrade this to level 2. It will lower the weight of forsaken technology equipped on your ships, which is a valuable boost.
Defense Platforms- Consider taking all of your defense platforms to level 4.
War Academy- While not a required update, it gives you more fleet slots to work with, allowing you to field more ships on the World Map. For now, consider this a low priority upgrade.
Warehouses- Upgrade all of them to at least level 9.

PRO TIP: IT IS POSSIBLE TO OVERFILL YOUR WAREHOUSES; YOU CAN DO THIS BY STARTING A BUILD, GOING OUT AND REFILLING YOUR WAREHOUSES TO CAPACITY, AND THEN CANCELING THE SHIP BUILD TO REFUND YOUR RESOURCES. YOU CAN DO THIS TO BOOST YOUR WAREHOUSE CAPACITY WITHOUT LEVELING THEM!
RESEARCH
There is a lot of research we're going to finish up on the road to Level 50+. You'll find the most notable research listed below. It's also worth mentioning that most of this list is generic upgrades; you may want to focus your upgrades on what weapons and hulls you're picking up. For example, if you have the Stingray hull it may be worth investing in Cannon System to improve its ballistic combat effectiveness.
Guidance Scrambler- Evade is one of the single strongest defensive stats. This ability is not a special to be missed.
Scramjet Engine- This special will boost the effectiveness of your Sentinel missile turrets. A solid pickup.

For now, those are the only two specials that are "mandatory" at this point. Again, it depends on what weapons and hulls you have access to. Try to prioritize based on what is at your disposal. For example, don't spend time researching high explosive shells if you aren't using any mortar weaponry.
SHIP BUILDS
While there are many ships to choose from, this guide will cover two common builds for ships that you currently have unlocked. There are many sources for other successful builds for ships, available out there on the forums. If you're ever stuck, ask another player about a specific ship build, as they may have a piece of advice that you had not thought about. The best tip for when it comes to approaching ship builds is this:
Shipyard time is the single most valuable resource in Battle Pirates. Do not spend it imprudently.
Mauler - Build at least one of each of these fleets.
MISSILE BASER​
​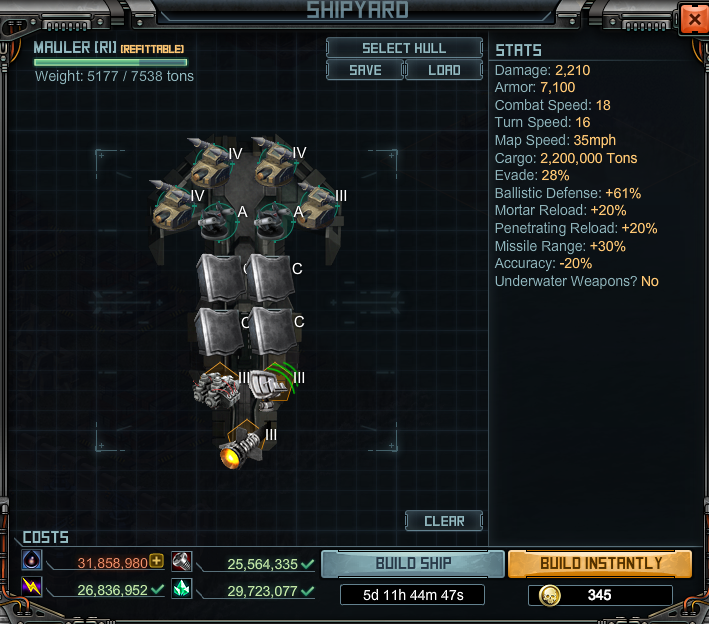 MORTAR BASER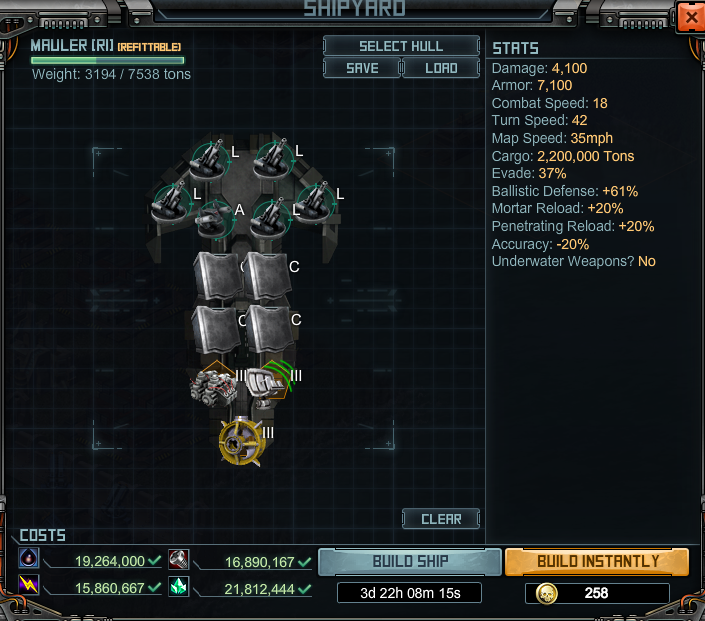 MISSILE FLEET VS. FLEET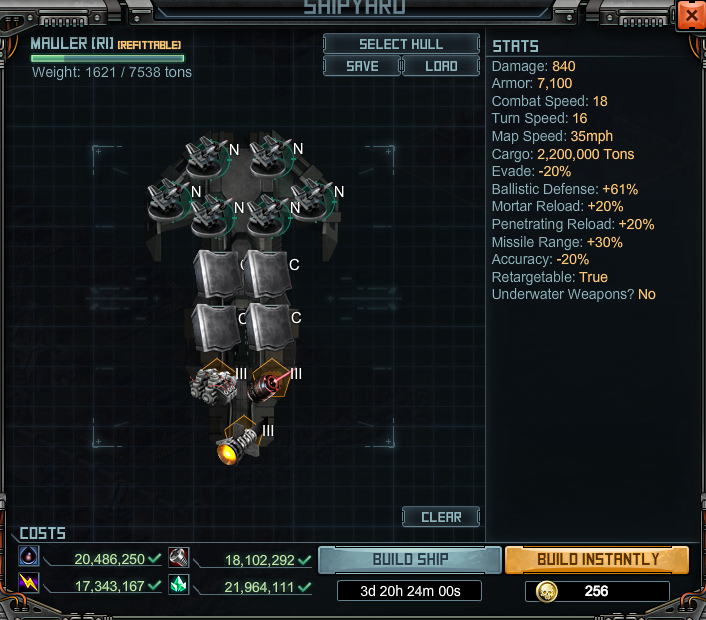 Mercury - Build at least two these fleets.
ASSAULT MISSILE FLEET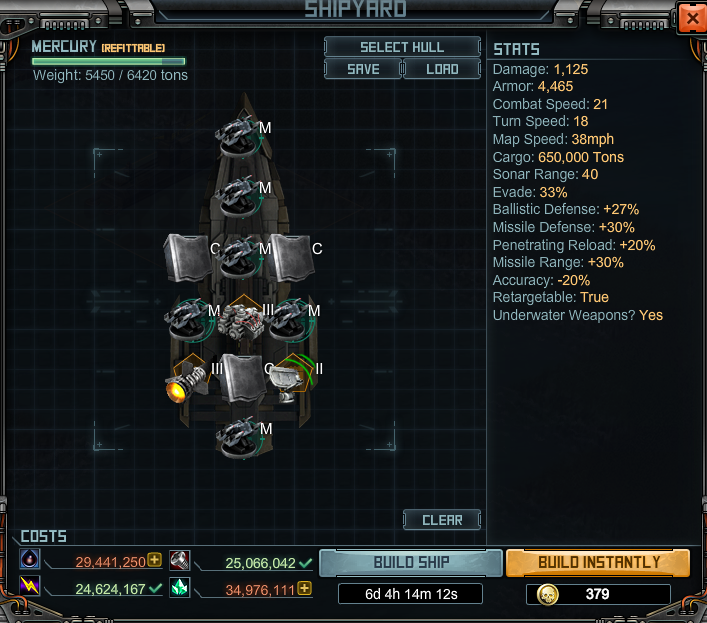 This Mercury build is designed to function as an open water fleet used to salvage blueprints from elite Draconian fleets.
FORSAKEN MISSIONS
Using your new Mauler and Mercury builds will allow you to venture into higher level Forsaken mission targets. You'll want to focus your efforts on level 34 and level 40 targets. You will take a little more damage on the level 40 targets, but the points payout is much higher. Target level 40 Military Outposts if you know you're going to be able to repair your fleet overnight. The point payouts for these targets are drastically higher than the lower level ones and will allow you to begin earning Tier 3 and even Tier 4 blueprints.
Use the Mauler build in these targets. Let the ships in the target come to you, then destroy them at range before moving onto the defensive structures in the base.
Do not let your Battle Barges and Sea Wolves gather dust! While you are out there on the high seas with your Mercurys and Maulers, send your Battle Barge As out to continue hitting low level targets to boost your score even more!

PRO TIP: SHIPS THAT ARE IN A BATTLE THAT YOU HAVE NOT JOINED WILL AUTO PILOT OR "AUTO" THE BATTLE. AUTOING CAN BE A VALUABLE TOOL THAT ALLOWS YOU TO HIT MORE THAN ONE TARGET AT A TIME TO IMPROVE YOUR EFFICIENCY.
EVENTS
Battle Pirates runs monthly events which offer extremely powerful technology. These events are the best source for the most powerful technology to boost your combat effectiveness. However, the greatest thing about events is that while an event is active, ships will repair in half the time! This is an extremely valuable tool, and can allow you to finish Campaign content that you might have been otherwise unable to do. So if you find yourself struggling during an event, do not waste this powerful buff; refocus your efforts on a Campaign that you have been unable to finish.
This Website is not affiliated With Battle Pirates. Trademarks are the property of their respective owners. Game Content and Materials Copyright Battle Pirates. All right reserved.