Dated: 3:03am on Thursday 9th July 2015
Information Regarding Campaigns To Be Completed On Your Way To Advance Level 40.
CAMPAIGNS
In this section we will explore which technology, ships, and buildings you need to work on to advance to level 40. Your first focus is on a few things - getting the Sea Wolf, Battle Barge A, increasing your Outpost to level 5, and unlocking some very valuable research technology to catapult you into the later stages of the game.
The first thing you are going to want to do on your way to 40 is to start completing Campaigns. Campaigns can be replayed to gain all of the listed prize packs. Each time you complete a Campaign, the entire prize pack will be awarded.
Once you collect all of the blueprints from the first two prize packs, "mastery" difficulty will be unlocked. Mastery features a sharp increase in difficulty and must be completed within one hour of the start time. Completing the mastery challenge will award one out of five limited hull blueprints from that Campaign. You will need to complete the mastery challenge five times in order to finish the associated Campaign
DOWN THE BARREL (BASIC CANNON RUSH TACTICS) UNLOCKS AT LEVEL 10
Playable three times for three different prizes.
LONG SHOT (BASIC MISSILE KITING TACTICS) UNLOCKS AT LEVEL 10
Playable three times for three different prizes.
RUN THE TRENCH (BASIC BLITZING BASE BACTICS) UNLOCKS AT LEVEL 25
Playable three times for three different prizes.
SHELL THE SHORE (BASIC STANDOFF BASE TACTICS) UNLOCKS AT LEVEL 25
Playable three times for three different prizes.
These four Campaigns will get you the necessary tech to attack priority targets, as well as to defend yourself from other pirates! So what are you waiting for? Get out there and crush those Dracs!
Short Term Goal 1: Complete the "Down the Barrel" Campaign, and do your best to earn the Battle Barge A.
PRO TIP: HAVING TROUBLE KILLING THE MORTAR SHIPS IN THIS CAMPAIGN? TRY STACKING YOUR SHIPS AT THE START OF COMBAT LIKE THIS: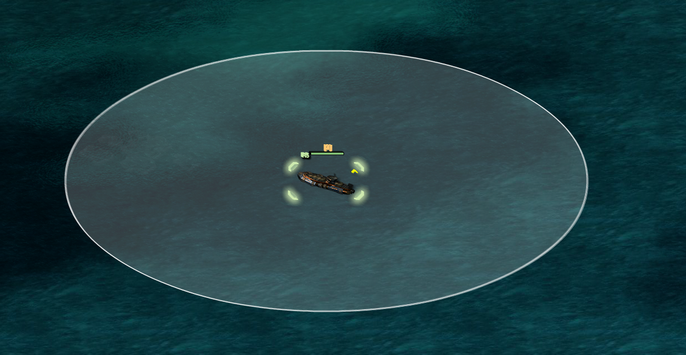 This formation ensures that you have no ships lagging behind to get stuck by Mortars-fire. TIP: Marauders getting destroyed in the later stages of the Campaign? Fear not, for these hulls are light enough to fall under the five minute mark for repairs. As such, they can be repaired instantly, for FREE!
PRO TIP: MORTARS HAVE A MINIMUM FIRING RANGE, WHICH MEANS IT'S POSSIBLE TO GET INSIDE THAT MINIMUM RANGE AND EXPLOIT THIS WEAKNESS TO PREVENT THE ENEMY FROM FIRING ON YOUR SHIPS.
BUILDS
Below, you will find a list of Upgrades that you'll want to start working on as you progress to level 40.
UPGRADE YOUR OUTPOST TO LEVEL 5
The Outpost is your central operations building. It controls the points at which you unlock technology, as well as the number of land-tiles available to you. As a result, it is very important to upgrade. Try to reach Outpost level 5 as soon as you can.
UPGRADE YOUR NAVAL LAB TO AT LEAST LEVEL 9
The Naval Lab controls which research hulls that you have access too. The go-to hull that you want to begin working toward is the Sea Wolf.
UPGRADE YOUR WEAPONS LAB TO AT LEAST LEVEL 8
The Weapons Lab has access to a series of research weapons that are very potent. Your goals here are to unlock the following weapons:
Thud Cannon IV
Rapier Missiles III
Cutlass Missiles IV
UPGRADE YOUR ADVANCED LAB TO AT LEAST LEVEL 9
The Advanced Lab is your central structure for ship and turret based special weapons. Your goal at the moment is to unlock the two primary Ballistic Specials, as well as a Movement Speed Special:
Hardened Barrels
Auto Loader
Engine Upgrade
BUILD TWO MORE WAREHOUSES - UPGRADE THREE OF YOUR WAREHOUSES TO AT LEAST LEVEL 10 AND THE REST OF THEM TO AT LEAST LEVEL 9
In order to start these upgrades and research, you will need a fair amount of resources, so build at least two more warehouses and start upgrading them to level 10.
BUILD AT LEAST TWO FLEETS OF BATTLE BARGE A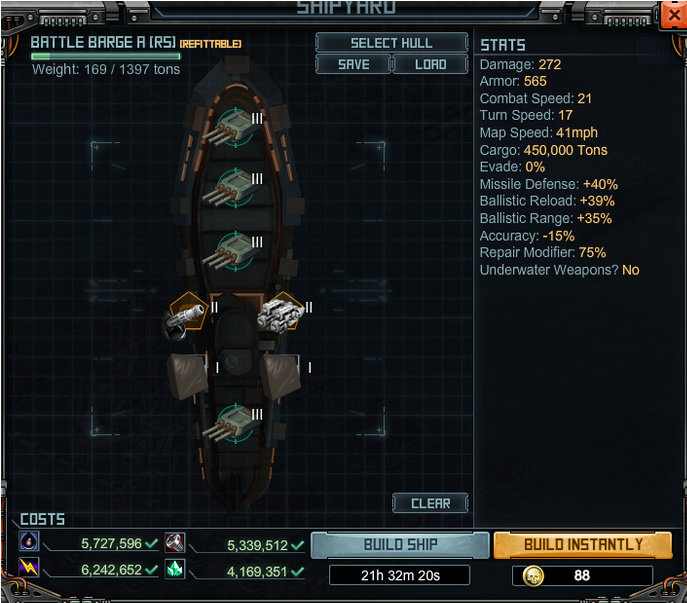 As listed above, complete the "Down the Barrel" Campaign and earn yourself the Battle Barge A.
Using the build listed above, construct two fleets of Battle Barge A's.
You may notice that this build will require you to upgrade your Dock. Start the upgrade while you're waiting for your ships to complete. Aim for around Dock level 8.
You can use this build to hit low level Draconian Super Mines, as well as to complete other Campaigns.
DEFENSE PLATFORMS
Upgrade your Defense Platforms to at least level 3
Long-term Build Goal: Build at least two fleets of Sea Wolves with the following build:
Long-term Build Goal 2: Build a Launch Pad
Long-term Build Goal 3: Upgrade your Launch Pad to level 4
PRO TIP: STRUGGLING TO GET RESOURCES FOR UPGRADES? THE CAMPAIGN SYSTEM HAS LOTS OF RESOURCES TO PIRATE! SO IF YOU'RE HAVING TROUBLE FINDING SALVAGE, ACTIVATE A CAMPAIGN AND COMPLETE A FEW TARGETS TO COLLECT RESOURCES(DON'T FORGET TO RECALL YOUR FLEETS BETWEEN EACH COMBAT!).

PRO TIP: ONCE YOU'VE GOT YOUR FLEETS OF BATTLE BARGE A'S COMPLETED, YOU SHOULD SET YOUR SIGHTS ON COMPLETING THE OTHER 3 BEGINNER CAMPAIGNS. THESE CAMPAIGNS CONTAIN USEFUL TECHNOLOGY THAT CAN HELP YOU ALONG YOUR WAY TO 40.
RETROFIT LAB PART 1
The Retrofit Lab stores a lot of upgrades for hulls, armor, weapons, and specials. You're going to want to build it eventually. Now that you have access to the Battle Barge A, a hull that can be retrofitted, spend some time and build at least a level 1 Retrofit Lab.
Using the Retrofit Lab upgrade your Battle Barge A's to Rank 1.
If you can find the resources and the time, upgrading your Retrofit lab to level 5 would be a solid investment; you're going to have to upgrade eventually.
RESEARCH
Below you'll find a list of research that you'll want to complete on your way to level 40. They've been included in order of importance. There is, however, some research that you'll be able to work on simultaneously.
HULLS: CAN BE FOUND IN YOUR NAVAL LAB
Sea Wolves
Many players consider this hull to be the bread and butter hull in the Battle Pirates universe. It is extremely versatile, able to be outfitted with ballistic and missile loadouts. Additionally, this hull, when not equipped with armor, fully damaged has roughly a 9 minute repair time This fact puts it under the 5 minute mark for repairs during monthly events, making it VERY valuable.
WEAPONS: CAN BE FOUND IN YOUR WEAPONS LAB
Thud Cannon IV
Widely regarded as the most useful cannon in the early game. Thuds are cheap, quick to construct, and pack a punch. Upgrade to level 4 as soon as possible.
Rapier Missiles III
You need to research Rapier Missiles to unlock the potent Cutlass Missile.
Cutlass Missile III
Arguably one of the strongest research weapons. With decent damage and range, this weapon is a potent pickup. Get it as soon as you can.
SPECIALS: CAN BE FOUND IN YOUR ADVANCED LAB
Hardened Barrels
The "go-to" early ballistic special. Increases the range of ballistic weapons equipped to your ships. Upgrade it early and often.
Auto-Loader
Your other bread and butter early ballistic special. Increases reload of ballistic weapons equipped to your ships. Upgrade it after Harden Barrels.
Solid Fuel Booster
One of the strongest missile-boosting specials, it greatly extends the range of your missile weapons.
Laser Targeting
Boosts the accuracy of missile weapons. A solid pickup.
BASE: CAN BE FOUND IN YOUR WEAPONS LAB UNDER BASE WEAPONS
Sentinel Missiles III
A strong defensive turret. You'll want to research and equip them to all of your defensive platforms.
ROCKETS: CAN BE FOUND IN YOUR WEAPONS LAB UNDER ROCKETS
Bunker Buster Rocket
A widely used rocket for surgical strikes on key enemy structures. Research at least the small version of this rocket.
Orion Rocket
Research this rocket, as it will be very valuable in a later Campaign target. Research at least the medium version of this rocket.
MILITARY STRONGHOLDS
By this point you will also want to start taking your Sea Wolves and Battle Barge A's into Military Strongholds. Military Strongholds have a pretty sizeable resource payout and have the added bonus of earning you points in Forsaken missions. You will want to focus on attacking level 27 and below Military Strongholds, as they will have the best payout for the amount of damage you're taking.
Do your best to start earning at least Tier 2 in the weekly Forsaken missions. There are some very powerful low level prizes that are available each week.
Your Battle Barge A fleets should be able to handle level 27 Forsaken mission targets with ease.
PRO TIP: STRUGGLING TO FIND LOW LEVEL MILITARY STRONGHOLDS? FIND A SECTOR WITH A CLUSTER OF LOWER LEVEL PLAYERS. THERE IS A GREATER CHANCE FOR LOWER LEVEL MILITARY STRONGHOLDS TO SPAWN THERE.
THE HUNT FOR BLUEPRINTS
One thing to remember is that at all times you should be on the lookout for blueprints.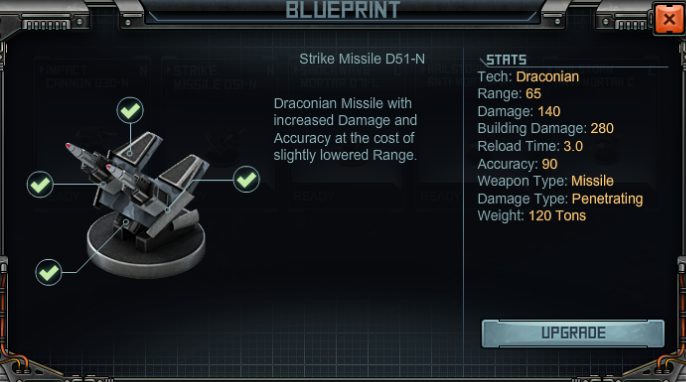 Blueprints can be scavenged from several key fleets in the game, such as regular Draconian fleets, Elite Draconian fleets, and Draconian Super Mines.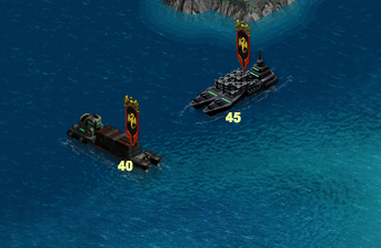 There are a variety of blueprints to collect, from high powered siege cannons to extremely long range assault missiles. You'll need to collect parts, and you can do that by destroying the fleets pictured above.
This Website is not affiliated With Battle Pirates. Trademarks are the property of their respective owners. Game Content and Materials Copyright Battle Pirates. All right reserved.