Dated: 7:54am on Monday 10th June 2019
Strategy Guide Having Useful Tips, Tricks, Hints And Other Information To Play Brightwood Adventures And Level Up Quickly.

Game Elements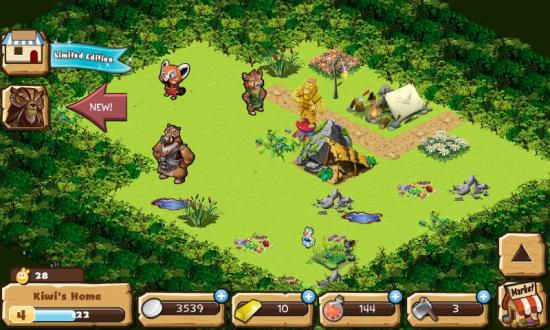 Look at the bottom of the game screen, here you will find your happiness, current level and experience, coin balance, gold balance, cheer, and axes.
Earning and Use of Gold : Gold can used to purchase premium items and skip over quest steps. Gold can be purchased or earned by completing quests and/or leveling up.
Cheer is used to speed up wait times. You can find cheer by interacting with buildings. You can also purchase cheer using real world currency.
Axes are used to clear away overgrowth in the forest surrounding your village. You can earn Axes by completing quests and leveling up. You can also purchase axes using real world currency.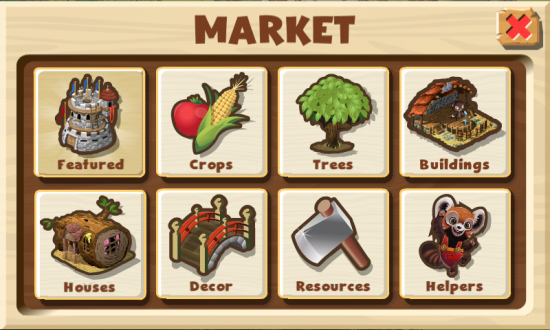 Look at the bottom right of the screen, here is the market. In the market you can purchase crops, trees, buildings, houses, décor, resources, and helpers.
When you tap on the arrow immediately above the market, it will open the toolbar. From here you can move and sell items, view your inventory, connect to Facebook, and change game settings.
Game Play
Your first task upon beginning the game will be to locate your father in the Dark Forest.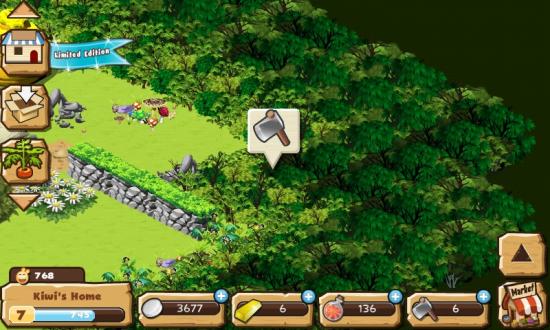 You should tap on an overgrown area of the forest and then tap on the axe icon that appears. This will send your character over to clear the area.
You may need to clear away several areas before you locate him, but it shouldn't take too many tries.
As you have located your characters father, you will need to untangle him from the vines he is trapped in. You can choose to speed up the process by using cheer or you can choose to wait for the action to be completed.
Once freed, you will have a second set of hands to help you out in building your village.
While making progress in the game, you will run across additional helpers. Helpers will allow you to complete multiple tasks at a time.
Now that you have extra help, it is time to start building your village.
You should tap on the market icon to open the marketplace.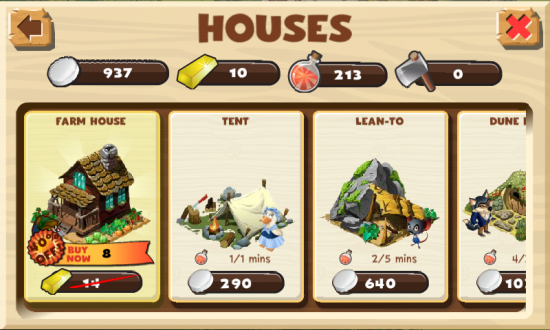 You should tap on the houses icon to open the housing section of the market.
Select one of the available housing options that are unlocked. You will be taken back to your village. Tap and drag the house to location you want to place it.
You should tap on the check mark to finalize the purchase or the X to cancel the purchase.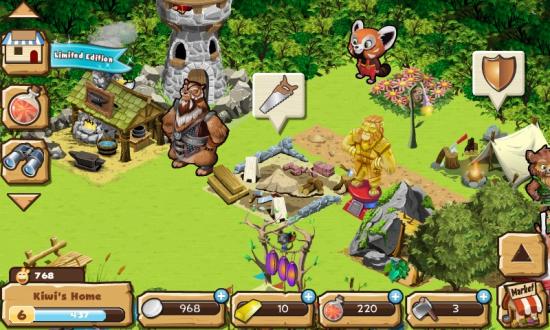 Once placed, the house will need to be built. Tap on it to send one of your helpers over to build it.
When built, you will require to tap on the house one final time to complete the building. You will require many items to finalize a building. Most of these items can be found by clearing debris from the area and by completing quests.
In case you have all of the necessary items to complete the house, tap on the button to finish the building.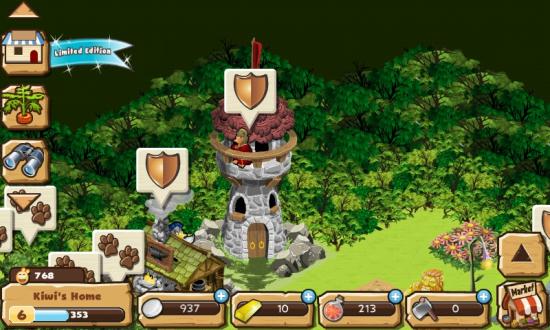 Over time houses and buildings will earn you coins and experience. When the shield icon appears over a building, tap on the building to collect your earnings.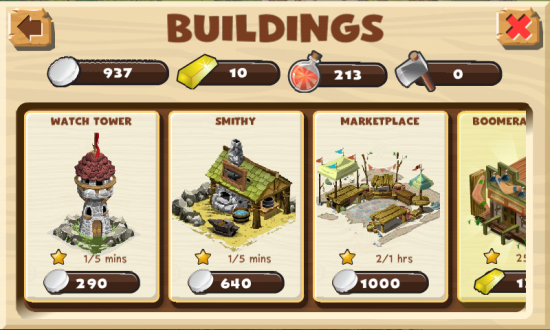 So, now you can start building buildings. Return to the market and tap on the buildings button.
You build buildings in the exact same way that you build houses.
When you level up you will unlock new items in the market.
Besides building houses and buildings, you will also need to do some farming.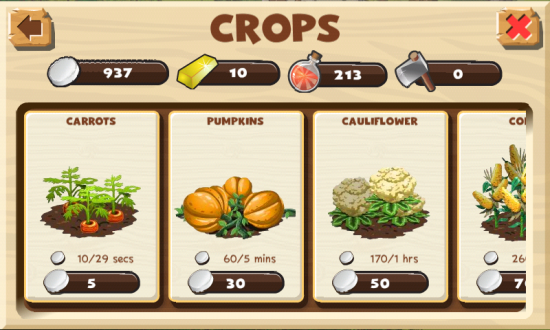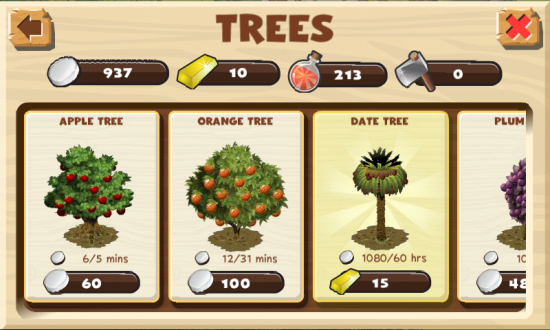 You can plant crops which are one time use and you can plant tress which can be harvested from multiple times.
Once you have selected a crop to plant from the market, tap the ground to till it.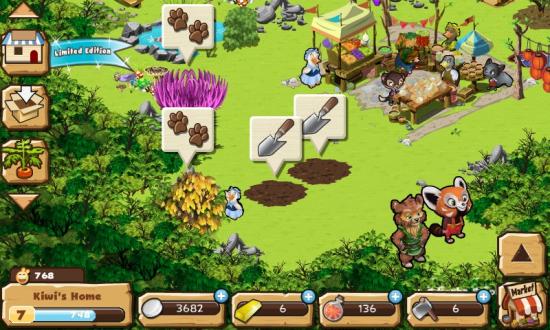 You should tap on the tilled earth to plant the seeds.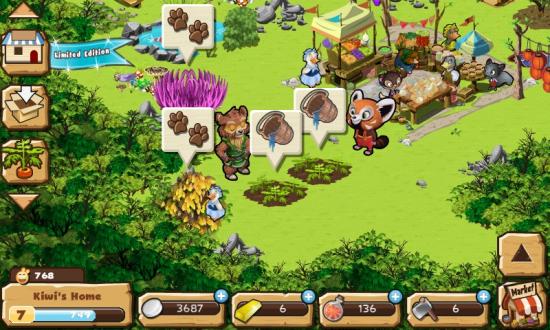 Further step, tap on the earth again to water the seeds.
Watering and tending to your plant takes time so you will need to wait until the task is complete or use cheer to speed up the process.
While a helper is tending to a plant, they will not be able to perform any other tasks. However, in case you cancel their current task, the time required will be reset. Only cancel a task if you really need to.
Once a crop or tree is ready to be harvested, tap on it to collect your reward.
Finally, you will begin to run out of room to build on. Before you start expanding into the Dark Forest look around the map and see if there are any debris items (rocks, weeds, etc.) that can be removed.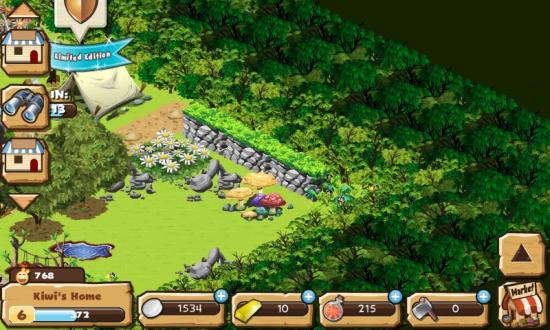 You should tap on any debris to send a helper over to remove it.
Each and every time you exit and reenter the game new debris will appear.
Clearing debris will earn you coins, experience, and items required for building. You can view any items you find by opening your inventory.
Important Tips and Tricks
Be sparing with your axes. If you only use them when you are directed to search the Dark Forest via a quest, you shouldn't run out of them too quickly.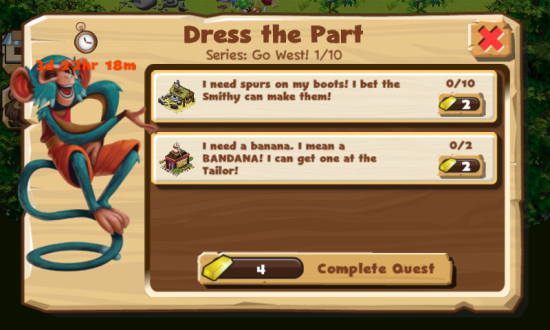 Completing quests is a good way to earn coins and experience, as well as earning items like gold and axes.
In case you become anxious for coins you can sell back decorations and buildings but it will be at a significant loss.
You should save tasks that are time consuming for when you will be away from the game. Items, such as treasure chests, can take over an hour to unlock. If you assign too many helpers to time consuming tasks you won't have any left to collect resources from buildings or clear away debris.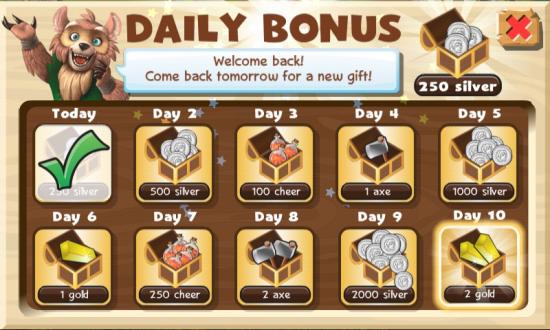 Make sure to log in daily to earn a new gift on daily basis. Logging in successive days in a row will earn you gradually better rewards.
This Website is not affiliated with Brightwood Adventures. trademarks are the property of their respective owners. Game content and materials copyright Brightwood Adventures. all right reserved.