Dated: 3:03am on Thursday 9th July 2015
Strategies, Hints and Tips To The Game Bubble Blitz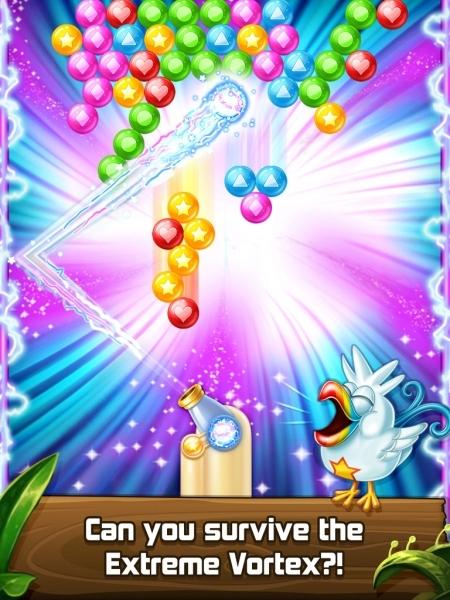 Here are few hints and tips for getting a high score in the Game Bubble Blitz.
Unlike most games of this nature, in Bubble Blitz you do not have to aim your next shot by swiveling the actual gun around. You can simply tap where you want the ball to land, and as long as there's nothing obstructing its path, the next shot will slot neatly in there.
As a general rule of thumb, it's always better to take out clusters of colored bubbles that are high up the screen. The reason for this is that anything hanging onto that cluster from beneath will always fall beneath the gun and be added to your score tally - it's a great way of destroying multiple clusters with just one shot.
Sometimes it's essential to bounce shots off the side of the screen. There's no real way of cheating your way through this, you'll just have to practice until you get a feel for the angle of rebounds. If you're to emerge victorious at the top of the leaderboards though, it's a skill you need to master.
As you level up through playing games, keep an eye on any new power-ups that you might have received. At certain progress milestones, you will be able to take more powerful upgrades into the 60-second battle with you.
The Extreme Vortex mode is activated by correctly matching colors in chained succession. Once it's been activated, you'll be able to make use of a lightning bolt twice that will slice through anything it comes into contact with. We recommend bouncing these shots off the walls in order to create multiple slicing motions that should send plenty of bubbles cascading to the floor.
Note that you can only play up to five matches in each play session before you'll have to wait a while to receive more energy. If you want to keep playing, you will need to buy more of it from the in-app purchase store. Don't waste money on fill-ups if you are close to leveling up in the game, as going up a level automatically replenishes your supply. Better to wait a little while.
Don't forget that you can switch between the two loaded balls in the cannon if you need to switch colors. Sometimes it's worth chipping away at lower clusters if it means gaining access to one that will cause a huge cascade.
This Website is not affiliated With Bubble Blitz. Trademarks are the property of their respective owners. Game Content and Materials Copyright Bubble Blitz. All right reserved.