Dated: 7:47am on Monday 10th June 2019
Tips, Tricks And Cheats To Make Charm King More Adventurous, Lovable And Enjoyable Game
It is sure that the lovers of other games will certainly love to play Charm King.
Charm King is a great game which really entertains all of us. New elements and power-ups will come in a way while playing this game and by this way, the game will certainly get more challenging .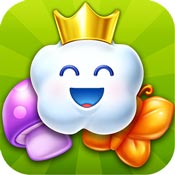 In this game, you will be collecting leaves, mushrooms, butterflies, clouds, and more with only a limited amount of moves. In Charm King, the goal of collecting these things will make the game more enjoyable. In this game, you will be required to make a good strategy so that you may handle all the matches.
While beginning the first level in Charm King, a collection objective will be shown to you and you should fulfill it. It is your job. There are different levels having both types of difficult and easy levels. There are certainly many tricks which will help you in this game. For example, match threes are great, match 4′s and more are ever better. For creating match 4, you will enchant all of your needed charms in the row or column. When a charm is enchanted, they become valuable as twice when you get them.
Further, you can also power up your charms by other matches. By creating a T or L-shape match, any charms can also be enchanted by you which you need in the corresponding row and column. If you want to reach your goal faster, you can enchant charms twice. There will be a power meter at the top of a level which you can view. It is filled more and more while making big matches by you. You will see that when the meter is full, it would spread out enchantments across the level. To see this becoming possible, you must always go through the cheats and tips of Charm King.
This Website is not affiliated with Charm King. trademarks are the property of their respective owners. Game content and materials copyright Charm King. all right reserved.