Dream World The Lake Monster
Defeat the big lake monster.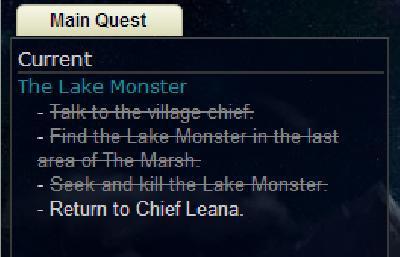 Task 1: Talk to the village chief.
Solution: Click on "village chief station", and talk to the chief and accept the quest
Task 2: Find the last monster in the last area of the marsh
Solution: Walk through all 5 levels of marsh till you see the monster
Task 3: Seek and kill the Lake Monster
Solution: One you see it, go back to the map and press seek then fight it, use mage powers to help kill it faster.
Task 4: Return to Chief Leana
Solution: Go back to town and go back to the village chief station and complete the quest
Reward After Completing The Lake Monster
Brocaded robe of wisdom +1, it will help to level up quicker.