Dated: 3:04am on Thursday 9th July 2015
Strategy Guide About Market Bank, Gifts, Diamonds, Coins, Fuel, Plow, Plant Seeds, Earning High Profits, Friends, Daily Bonus.
How to Manage your Farm
You should know your tools to successfully manage your farm from the ground up. Look at the bottom of game interface, you will find the tools you will require to progress through the game. Below is a list of the tools and what they're used for.

Universal Tool : used mostly in the game as a default, it can move and store decorations and automatically trigger action tools on each item
Spade : used to plow fields
Water Faucet : create ponds on your farm for aesthetics
Process Tool : harvest produce and send them to a factory to process goods
Market : purchase animals, buildings, seeds, trees, and decorations
Bank : here you can buy diamonds and extra coins with Facebook credits
Item Removal : remove any item from your farm
Storage : store any item from your farm
Gifts : receive and send gifts to neighbors
Achievements : earn awards and create crafts to receive diamonds
Message : send messages to neighbors
Avatar's look can be chosen by clicking on it to open up a window with six options for you to choose from. Take note that your avatar may not appear all the time. To make sure it does, either gather from trees, plow, or plant some seeds.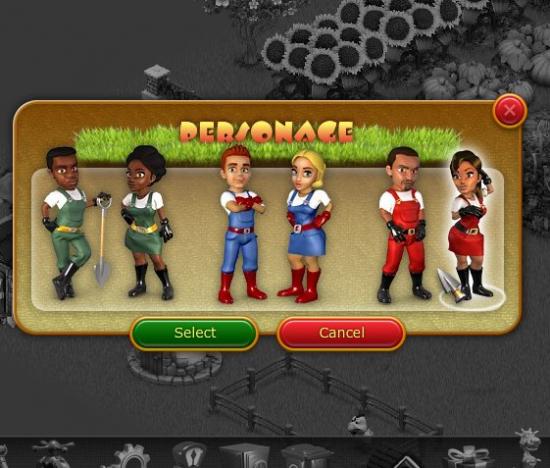 Purpose of Elements
Three resources or elements are there which you can use in the game. We give below these resources with their corresponding use.
Use of Diamonds : Diamonds are used to buy special items like factories, yards, and premium decorations. You earn 1 diamond every time you level up. You can also earn them by completing a craft from the achievements window. By going to the bank, you can purchase more diamonds with Facebook credits. Finally, you can also earn by visiting your farm five days in a row.
Use of Coins : Coins is the most common element in the game as most items can be bought with coins. To earn more, you need to plant seeds or trees, process your goods from plants or animals, and you can even sell items from your farm.
Use of Fuel : Fuel is used to run your machinery e.g. tractors or seeding machines. You can buy them at the market under the machinery tab with coins or diamonds.
Plow and Plant Seeds
You should allocate some space on your land for produce to grow. Using the plow tool, get your fields ready by clicking on an available space in your farm. This will create plots for you to plant your seeds. Each time you plow, you'll receive one experience point.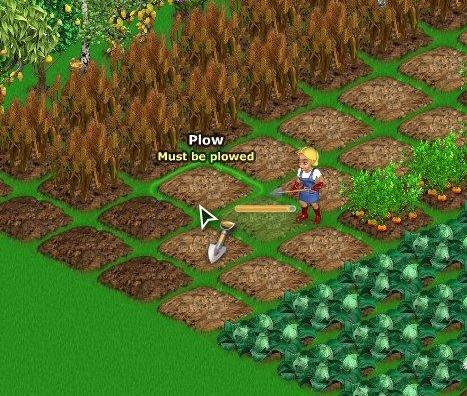 As soon as the plots are ready, clicking on one or going to the market will open up the seeds window. It will indicate the cost of each seed, growth time, experience gained when you plant it, and how much you are going to make after you harvest. Like any other game, not all seeds are unlocked initially. Instead, they will only be available once you reach the required level.
IMPORTANT TIP : In lower levels, plant seeds that have higher experience points. This will assist you gain diamonds faster so you can purchase factories. You can focus on profits later on since you'll get more coins from processed goods.
Do not forget to check on your crops often or else you'll end up having wilted plants and you'll waste your investment. When you harvest, you'll also notice which plants have been watered by your neighbor.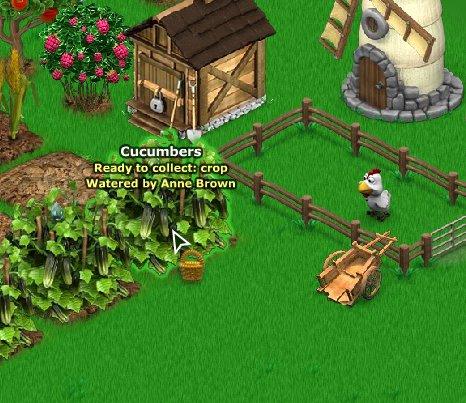 Processing of Goods for Higher Profit
In the game Farmandia, some of the seeds can be processed by factories. In the example below, planting wheat can give you wheat flour, which you can process through an ordinary mill or water mill. Processing time will be dependent on what factory you have. In this case, having a water mill will process it fifteen minutes faster.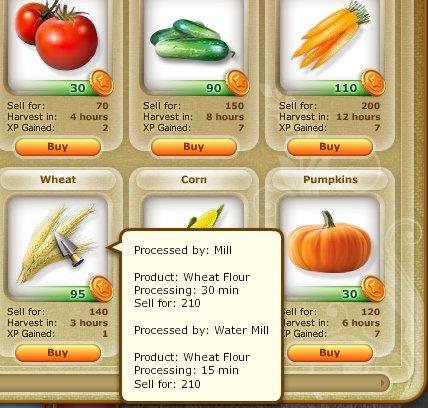 One gain for having to process your produce instead of just harvesting it is more profit. With wheat flour, you can now sell it at 210 coins instead of the harvested price of 140. That's 70 coins more. Another benefit is that you will receive extra experience points when you process instead of harvest. This is on top of the experience points you get when you plant seeds.
At each factory, there is no maximum number of crops you can process. You can see your progress by hovering your mouse over each factory. You can then pick up the processed goods any time to earn your profit.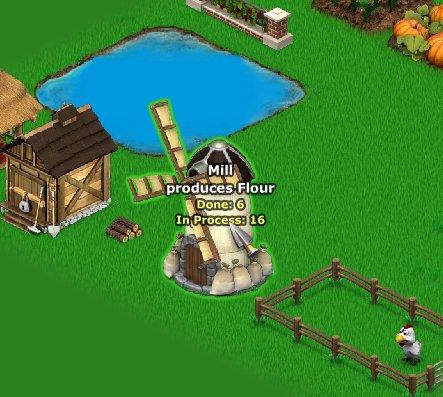 IMPORTANT TIP : Pick factories that can process different seeds. The jam factory or cheese factory are good examples. As you progress, you can have several crops in your fields and process them at the same time in your factory. This is more cost efficient since factories are very expensive.
Creating Crafts to Earn Diamonds
More rewards can be earned by you by assembling ingredients to create crafts in the achievements window.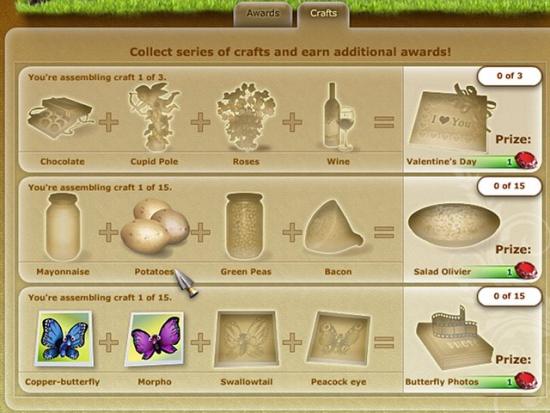 From the example as given above, to successfully get butterfly photos, you need to convert caterpillars to specific butterflies. You can do this by waiting for caterpillars to appear at your farm or visit neighbors and look for them. Once you've collected all of them, you are awarded one diamond.
In case you would like to have salad olivier, all you need is to harvest the required produce and process some of them in your factories.
Gifts and Helping Neighbors
There is a gift shop in this game and this shop in Farmandia have some difference as compared to other games. Instead of sending one gift to a lot of neighbors, you are limited to sending only one gift to one person at a time. Take note that not all the items are free. Some may have sent items that cost coins or diamonds, so make sure what you're picking before sending them.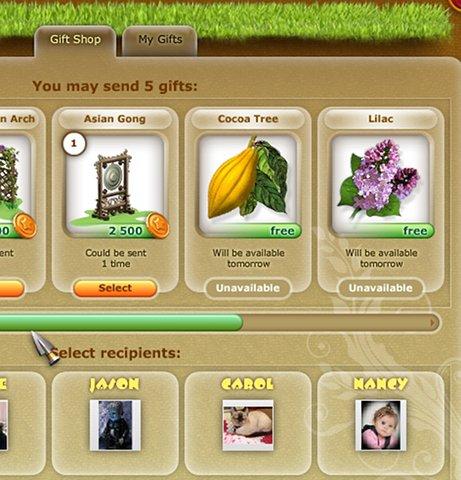 In respect of helping neighbors, visiting them will let you water their crops or trees and convert caterpillars to butterflies. Two experience points per plant or tree you water are received by you. You can water crops that are ready for harvesting or those that are still in the growth stage. In the example below, you'll know that a plant has been watered if you see a water drop on top of them. Pick one that hasn't been watered yet.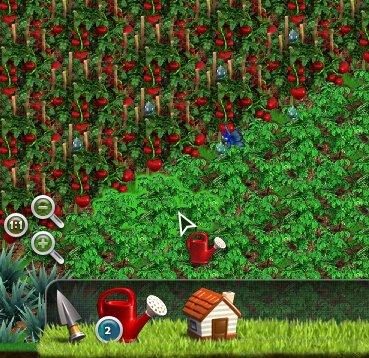 While converting caterpillars, the benefit you will get is to get you closer to achieving the magician award, which will eventually earn you diamonds.
Earning of Daily Bonus
If you visit your farm daily, you will get a coin bonus every time. You can also earn diamonds if you visit five days consecutively.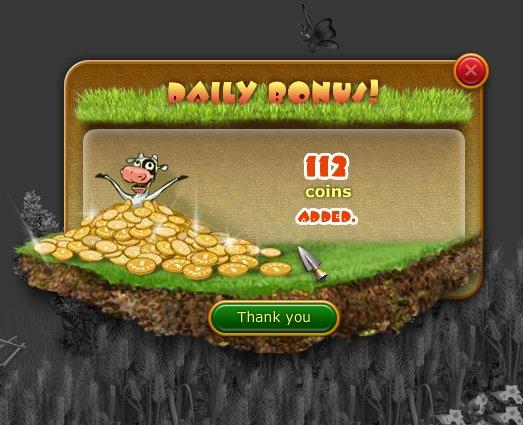 This Website is not affiliated With Farmandia. Trademarks are the property of their respective owners. Game Content and Materials Copyright Farmandia. All right reserved.