Farmville 2 A Peasant Surprise: Thin As A Rake
Your animals lool like they can use some feed!.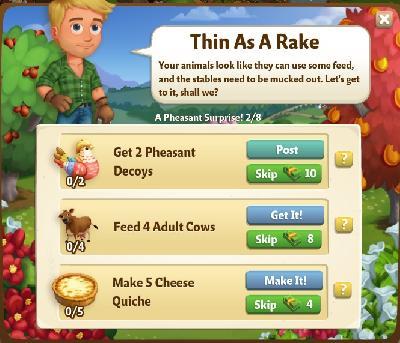 Task 1: Get 2 Pheasant Decoys.
Solution: Ask friends.
Task 2: Feed 4 Adult Cows
Solution: Feed 4 Cows
Task 3: Make 5 Cheese Quiche.
Solution: Go to kitchen and make 5 Chees quiche. You'll need cheese and eggs.
Reward After Completing A Peasant Surprise: Thin As A Rake
1 favor, 40 xp, 300 coins and 1 pheasant treat