Farmville 2 A Peasant Surprise: With A Little Help From My Friends
Be a good neighbor!.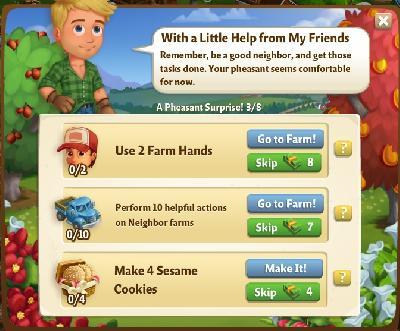 Task 1: Use 2 Farm Hands.
Solution: Use 2 of your neighbors farmhand help. (ask them)
Task 2: Perform 10 helpful actions on Neighbor farms.
Solution: Go to neighbors and help 10 times.
Task 3: Make 4 Sesame Cookies.
Solution: Go to Kitchen and make 4 Sesame Cookies. You'll need Sesame seeds and batter.
Reward After Completing A Peasant Surprise: With A Little Help From My Friends
1 favor, 55 xp, 375 coins and 1 pheasant treat