Farmville 2 A Timeless Classic: A Little R AND R
Show of your farm!.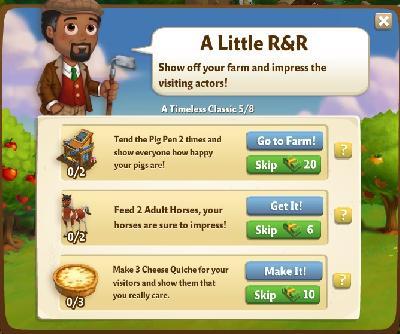 Task 1: Tend the Pig Pen 2 times and show veryone how happy your pigs are!
Solution: Feed your pig pen 2 times.
Task 2: Feed 2 Adult Horses, your horses are sure to impress!
Solution: Feed 2 horses.
Task 3: Make 3 Cheese quiche for your visitors and show them that you really care.
Solution: Go to kitchen and Make 3 Cheese quiche. You'll need Cheese and eggs.
Reward After Completing A Timeless Classic: A Little R AND R
1 Favor, 50 Xp and 550 Coins