Farmville 2 A Timeless Classic: Dramatic Due Diligence
Everything is comeing together perfectly!.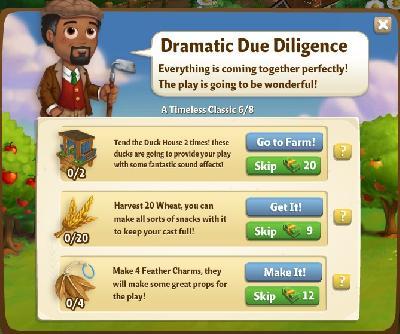 Task 1: Tend the Duck House 2 times! these ducks are going to provide your play with some fantastic sound effects!
Solution: Feed your duck house 2 times.
Task 2: Harvest 20 Wheat, you can make all sorts of snacks with i to keep your cast full.
Solution: Plant, water and harvest 20 wheat. ready in 4 hours.
Task 3: Make 4 Feather Charms, they will make some great props for the play!
Solution: Go to workshop and Make 4 Feather Charms. You'll need wool tread and brown feathers.
Reward After Completing A Timeless Classic: Dramatic Due Diligence
1 Favor, 70 Xp and 650 Coins