Farmville 2 A Timeless Classic: Set Dressing 101
Spruce up the set!.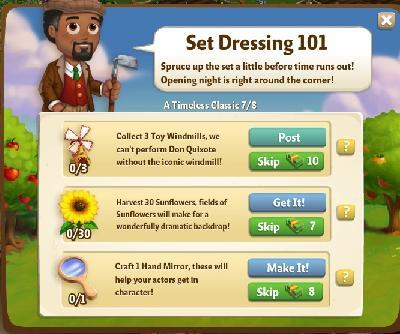 Task 1: Collect 3 Toy Windmills, we can't perform Don Quixote without the iconic windmill!
Solution: Ask friends.
Task 2: Harvest 30 Sunflowers, fields of Sunflower will make for a wonderfull dramatic backdrop!
Solution: Plant, water and Harvest 20 Sunflowers. ready in 24 hours.
Task 3: Craft 1 Hand Mirror, these will help your actors get in character!
Solution: Go to workshop and make 1 Hand Mirror. You'll need mirror and wood.
Reward After Completing A Timeless Classic: Set Dressing 101
2 Favors, 90 Xp and 900 Coins