Farmville 2 A Timeless Classic: Setting The Stage
Gather the items needed!.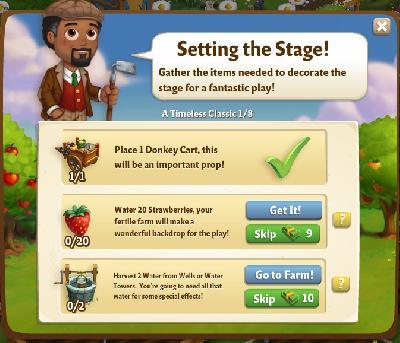 Task 1: Place 1 Donkey Cart, this will be an important prop!
Solution: Place the Donkey Cart at your farm.
Task 2: water 20 Strawberries, your fertile farm will make a wonderful backdrop for the play!
Solution: Plant and water 20 Strawberries.
Task 3: Harvest 2 Water from Welss or Water Towers. You are going to need all that water for some special effects!
Solution: Click on Wells, or Tower when ready total 2 times.
Reward After Completing A Timeless Classic: Setting The Stage
1 Favor, 30 Xp, 300 Coins and 1 Donkey treat