Farmville 2 A Timeless Classic: Thespian Therapy
Help our star!.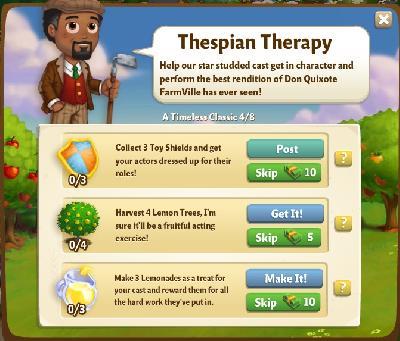 Task 1: Collect 3 Toy Shields and get your actors dressed up for their roles!
Solution: Ask friends.
Task 2: Harvest 4 Lemon Trees, I'm sure it'll be a fruitful acting exercise!
Solution: Water and harvest 4 Lemon Trees. ready in 12 hours.
Task 3: Make 3 Lemonades as a treat for your cast and reward them for all the hard work they've put in.
Solution: Go to kitchen and make 3 Lemonades. You'll need Lemon water and Lemons.
Reward After Completing A Timeless Classic: Thespian Therapy
1 Favor, 45 Xp and 450 Coins