Farmville 2 All Fur You: Clean Up Your Act
need soap!.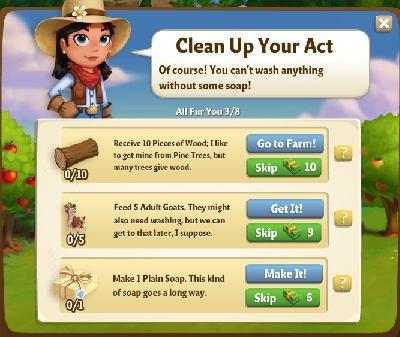 Task 1: Receive 10 Piecec of Wood; I like to get mine from Pine Trees, but many tres give wood.
Solution: Harvest trees that gives you wood and get 10 piecec Wood.
Task 2: Feed 5 Adult Goats. They might also need washing, but we can get to that later, I suppose.
Solution: Feed a Goat 5 times.
Task 3: Make 1 Plain Soap. This kind of soap goes a long way.
Solution: Go to your workshop and make 1 Plain soap. You'll need Lye and Olive oil.
Reward After Completing All Fur You: Clean Up Your Act
40 XP, 400 Coins and rhinestone.