Farmville 2 Be All You Can Sheep: Huffy Horses
Horses Demands attention!.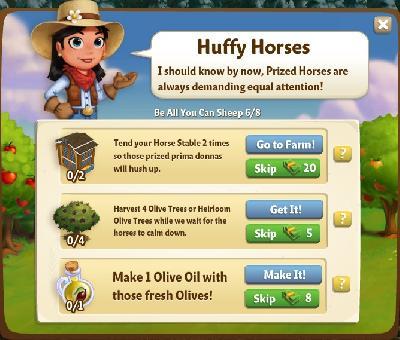 Task 1: Tend your Horse Stable 2 times so those prized prima donnas will hush up.
Solution: Feed Horse Stable 2 times.
Task 2: Harvest 4 Olive Trees or Heirloom Olive Trees.
Solution: Water and harvest 4 Olive tree. Ready in 12 hours.
Task 3: Make 1 Olive Oil with those fresh Olives!
Solution: Go to Workshop and make 1 olive oils. You'll need olives and flasks.
Reward After Completing Be All You Can Sheep: Huffy Horses
70 XP and 650 Coins