Farmville 2 Be All You Can Sheep: Sheep Scents
Curious Sheep!.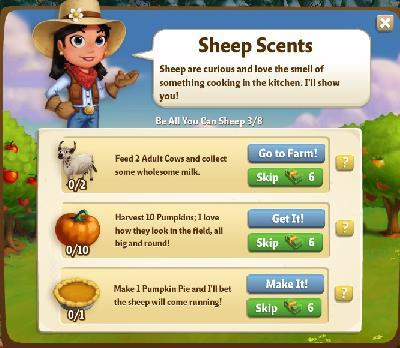 Task 1: Feed 2 Adult Cows and collect some wholesome milk.
Solution: Feed 2 Cows.
Task 2: Harvest 10 Pumpkins; I love how they look in the field, all big and round!
Solution: Plant, water and harvest 10 pumpkins, they grow in 8 hours
Task 3: Make 1 Pumpkin Pie and I'll bet the sheep will come running!
Solution: Go to kitchen and make 1 pumpkin pie. You'll need pumpkin filling and Pie crust.
Reward After Completing Be All You Can Sheep: Sheep Scents
40 XP and 400 Coins