Farmville 2 Berry Delightful: Berry Important Things
Understand what the Berry Delight Festival is about!.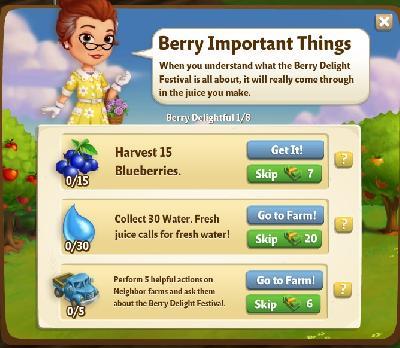 Task 1: Harvest 15 Blueberries.
Solution: Plant, water and harvest 15 Blueberries. ready in 2 inutes.
Task 2: Collect 30 Water. Fresh juice calls for fresh water!
Solution: Harvest your water tower/wells and collect 30 water.
Task 3: Perform 5 helpful actions on Neighbour farms and ask them about the Berry Delight Festival.
Solution: Go to neighbor farms and help 5 times.
Reward After Completing Berry Delightful: Berry Important Things
1 Favor, 30 Xp, 300 Coins and 1 Bottle Cork