Farmville 2 Berry Delightful: Rain Or Shine
There's no way Barbara is going to get rained out!.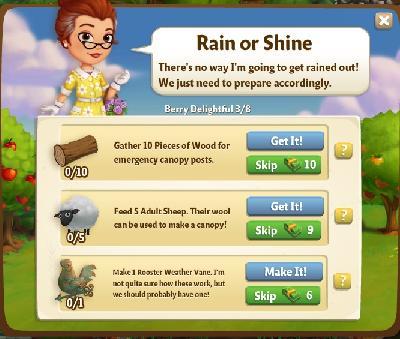 Task 1: Gather 10 Pieces of Wodd for emergency canopy posts.
Solution: Harvest trees giving wood and gather 10 pieces.
Task 2: Feed 5 Adult Sheep. Their wool can be used to make a conpy!
Solution: Feed 5 Sheeps.
Task 3: Make 1 Rooster Wheather Vane. I'm not quite sure how these work, but we should probably have one!
Solution: Go to workshop and make 1 Rooster Wheather Vane. You'll need Copper sheet (ask friends) and wood.
Reward After Completing Berry Delightful: Rain Or Shine
1 Favor, 40 Xp, 400 Coins and 1 Bottle Cork