Farmville 2 Birthday Surprise: Heat Up The Party
need some wood and matches!.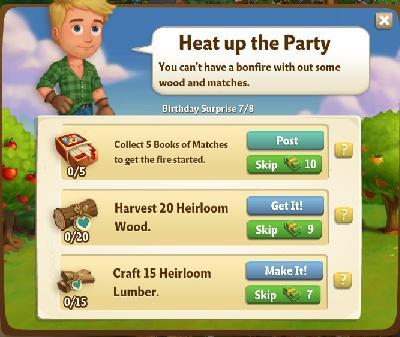 Task 1: Collect 5 Books of Mathes to get the fire started.
Solution: Ask friends.
Task 2: Harvest 20 Heirloom Wood.
Solution: Water and harvest heirloom trees giving wood. collect 20 Heirloom wood.
Task 3: Craft 15 Heirloom Lumber.
Solution: Go to workshop and make 15 Heirloom lumber. You'll need Heirloom wood.
Reward After Completing Birthday Surprise: Heat Up The Party
200 Xp, 1500 Coins and 2 baby bottles