Farmville 2 Bunny And Hutch: A Bit Corny
Lots of things to do.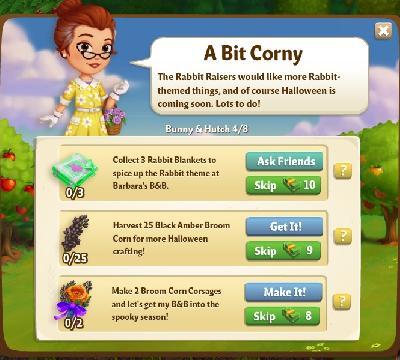 Task 1: Collect 3 Rabbit Blankets to spice up the Rabbit theme at Barbara's B&B.
Solution: Ask Friends.
Task 2: Harvest 25 Black Amber Broom Corn for more Halloween crafting.
Solution: Click empty plot, Black Amber broom corn and harvest 25. they grow in 4 hours.
Task 3: Make 2 Broom Corn Corsages and let's get my B&B into the spookey season!
Solution: Go to workshop and make 2 Broom Corn Corsages. You'll need Black Amber broom corn and Orange Yarn Flower.
Reward After Completing Bunny And Hutch: A Bit Corny
45 XP, 450 Coins and 1 green twine