Farmville 2 Bunny And Hutch: They Are All Ears
A Bunny Whisperer!.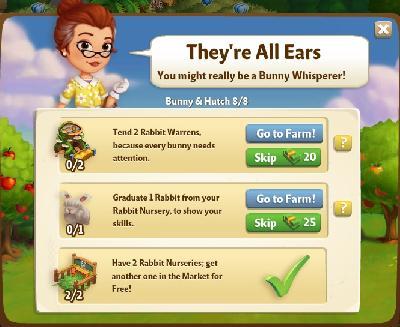 Task 1: Tend 2 Rabbit Warrens, because every Bunny needs attention.
Solution: Feed your Rabbit warren 2 times.
Task 2: Graduate 1 Rabbit from your Rabbit Nursery, to show your skills.
Solution: Build your Rabbit Nursery and Graduate 1 Rabbit.
Task 3: Have 2 Rabbit Nurseries; get another one in the Market for Free!
Solution: Go to market and get 1 extra Rabbit Nursery.
Reward After Completing Bunny And Hutch: They Are All Ears
120 XP, 1100 Coins and 1 Alfalfa Hay basket