Farmville 2 Buyers In The Storm: Advance To Goat
Lets calm the Goats!.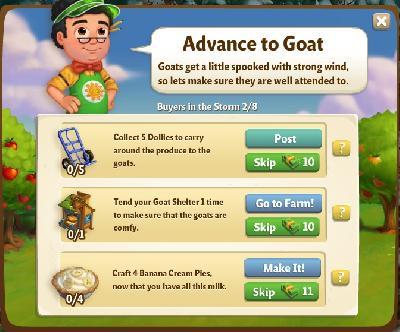 Task 1: Collect 5 Dollies to carry around the produce to the goats.
Solution: Ask friends.
Task 2: Tend your Goat Shelter 1 time to make sure that the goats are comfy.
Solution: Feed your goat shelter 1 time.
Task 3: Craft 4 Banana Cream Pies, now that you have all this milk.
Solution: Go to kitchen and make 4 Banana Cream Pies. You'll need Banana Cream and Pie crusts.
Reward After Completing Buyers In The Storm: Advance To Goat
480 Xp, 625 Coins and 1 Baby Bottle