Farmville 2 Camping With Gus: Pack It In
Getting Packs!.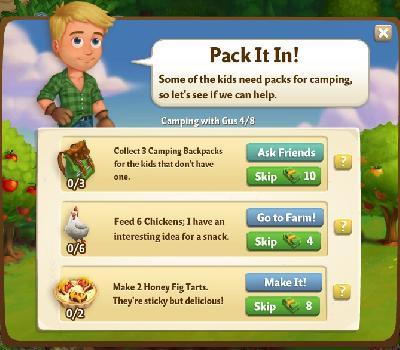 Task 1: Collect 3 Camping Backpacks for the kids that don't have one.
Solution: Ask friends.
Task 2: Feed 6 Chickens; I have and interesting idea for a snack.
Solution: Feed a Chicken 6 times.
Task 3: Make 2 Honey Fig Tarts. They're sticky but delicious!
Solution: Go to Kitchen and make Honey Fig Tarts. you'll need Honey Fig Custard and batter.
Reward After Completing Camping With Gus: Pack It In
45 Xp and 450 Coins