Farmville 2 Community Caring: Hot Stuff
Getting heat!.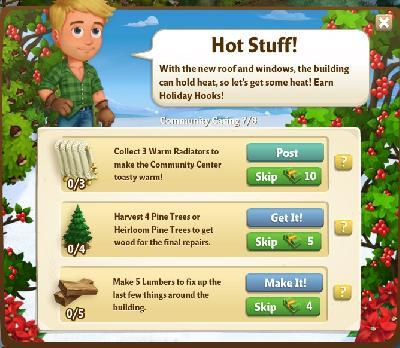 Task 1: Collect 3 Warm Radiators to make the community Center toasty warm!
Solution: Ask friends.
Task 2: Harvest 4 Pine Trees or Heirloom Pine Trees to get wood for the final repairs.
Solution: Water and Harvest 4 Pine trees. Ready in 24 hous.
Task 3: Make 5 Lumbers to fix up the last few things around the building.
Solution: Go to workshop and make 5 Lumber. You'll wood.
Reward After Completing Community Caring: Hot Stuff
90 XP, 900 Coins and 2 holliday hooks.