Farmville 2 Community Caring: Step Up
Fixing up Community Center!.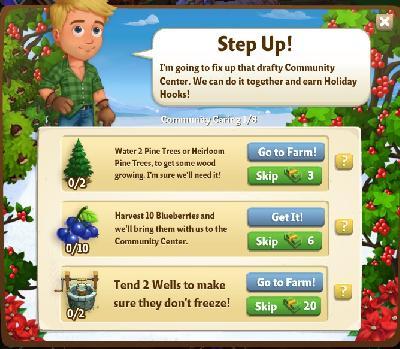 Task 1: Water 2 Pine Treees or Heirloom Pine Trees, to get some wood growing. I'm sure we'll ned it!
Solution: Water 2 Pine trees.
Task 2: Harvest 10 Blueberrise and we'll bring them with us to the Community Center.
Solution: Plant, water and harvest 10 Blueberries. Ready in 2 minutes.
Task 3: Tend 2 Wells to make sure they don't freeze!
Solution: Click at well 2 times when ready.
Reward After Completing Community Caring: Step Up
30 XP, 300 Coins and 2 holliday hooks