Farmville 2 Crush In The Brush: Fire And The Belly
Gus need a toasty fire!.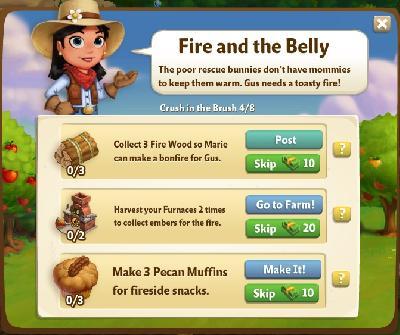 Task 1: Collect 3 Fire Wood so Marie can make a bonfire for Gus.
Solution: Ask friends.
Task 2: Harvest your Furnaces 2 times to collect embers for the fire.
Solution: Click your Furnace when ready 2 times.
Task 3: Make 3 Pecan Muffins for fireside snacks.
Solution: Go to Kitchen and make 3 Pecan Muffins. You'll need Pecan and batter.
Reward After Completing Crush In The Brush: Fire And The Belly
1 Favor, 45 Xp, 450 Coins and 1 rescue badge