Farmville 2 Crush In The Brush: The Rope Joke Trope
Gus needs ropes!.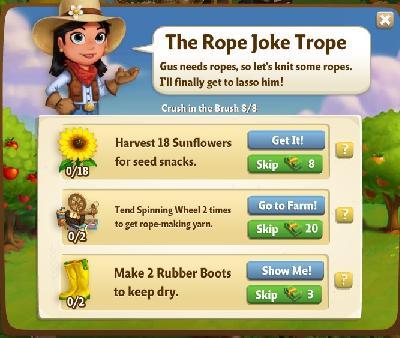 Task 1: Harvest 18Sunflowers for seed snacks.
Solution: Plant, water and harvest 18 Sunflowers. ready in 24 hours.
Task 2: Tend Spinning wheel 2 times to get rope-making yarn.
Solution: Fill your spinning wheel from feeding rabbits and sheep. and collect 2 times when ready.
Task 3: Make 2 Rubber Boots to keep dry.
Solution: Go to recue station and make 2 Rubber Boots. You'll need Rubber and fur.
Reward After Completing Crush In The Brush: The Rope Joke Trope
2 Favors, 120 Xp, 1100 Coins and 1 rescue badge