Farmville 2 Down With That: Of a Feather
examine feathers!.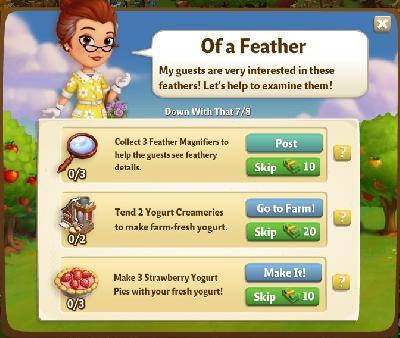 Task 1: Collect 3 Feather MAgnifiers to help the guests see feathery details.
Solution: Ask friends.
Task 2: Tend 2 Yogurt Creameries to make farm-fresh yougurt.
Solution: Click at your Yogurt Creamary 2 times when its ready.
Task 3: Make 3 Strawberry Yogurt Pies with your fresh yogurt!
Solution: Go to kitchen and make 3 Strawberry yogurt Pies. you'll need Strawberry yogurt fillings and Pie crust.
Reward After Completing Down With That: Of a Feather
90 XP and 900 Coins