Farmville 2 Fall Festival Fever: Gathering Garland
Decoration ideas!.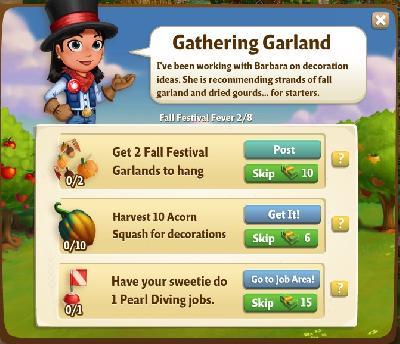 Task 1: Get 2 Fall Festival Garlands to hang
Solution: Ask friends
Task 2: Harvest 10 Acorn Squash for decorations
Solution: Plant, water and harvest 10 Acorn Squash. Ready in 1 day
Task 3: Have your sweetie do 1 Pearl Diving jobs.
Solution: Let your sweet heart do 1 Pearl diving job.
Reward After Completing Fall Festival Fever: Gathering Garland
1 favor, 35 xp, 128 coins and 1 sweer pig mix