Farmville 2 Fallen Pine Tree: Otter Than a Pepper Patch
The town counsil says anyone who crops a tree needs a license!.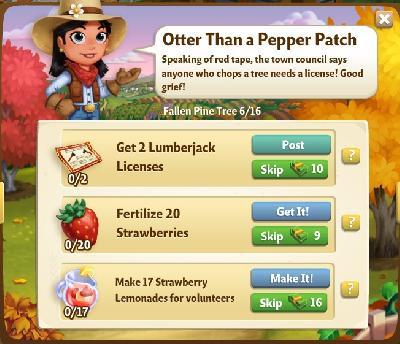 Task 1: Get 2 Lumberjack Licenses
Solution: Ask friends
Task 2: Fertilize 20 Strawberries
Solution: Plant, water and fertilize 20 strawberries
Task 3: Make 17 Strawberry Lemonades for volunteers
Solution: Go to kitchen and make 17 strawberry lemonades. You'll need Strawberries and lemonades.
Reward After Completing Fallen Pine Tree: Otter Than a Pepper Patch
500 coins