Farmville 2 Fit The Bill: That Fowl Stench
Smelling!.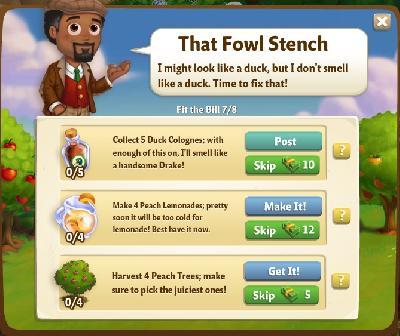 Task 1: Collect 5 Duck Colognes; with enough of this on, I'll smell like a handsome Drake!
Solution: Ask friends.
Task 2: Make 4 Peach Lemonade; pretty soon it will be to cold for lemonade! best have it now.
Solution: Go to Kitchen and make 4 peach lemonades. You'll need Peach's and Lemonade.
Task 3: Harvest 4 Peach Trees; make sure to pick the juiciest ones!
Solution: Water and Harvest 4 Peach trees.
Reward After Completing Fit The Bill: That Fowl Stench
90 XP and 900 Coins