Farmville 2 Fit The Bill: Waddle You Mean
Duck are frightend!.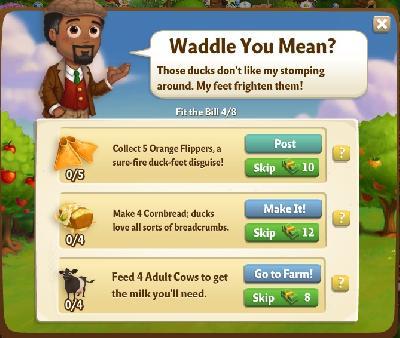 Task 1: Collect 5 Orange Flippers, a sure-fire duck-feet disguise!
Solution: Ask friends.
Task 2: Make 4 Cornbread; ducks love all sorts of breadcrumbs.
Solution: Go to Kitchen and make 4 Cornbread. You'll need Cornmeal and buttermilk.
Task 3: Feed 4 Adult Cows to get the milk you'll need.
Solution: Feed a cow 4 times.
Reward After Completing Fit The Bill: Waddle You Mean
45 XP and 450 Coins