Farmville 2 Froggie Went A-Courting: A Little Privacy
Need some covered nest for Froggie!..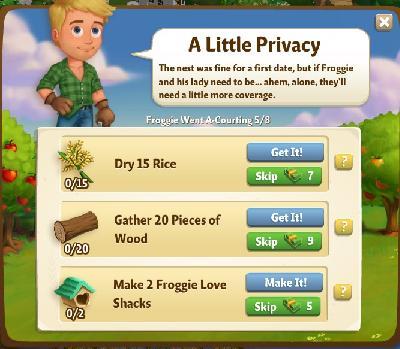 Task 1: Dry 15 Rice
Solution: Solution: Plant, harvest and dry 15 Rice in your crop dryer.
Task 2: Gather 20 Pieces of Wood.
Solution: Harvest trees giving wood and collect 20 pieces wood.
Task 3: Make 2 Froggie Love Shacks.
Solution: Go to workshop and make 2 Froggie Love Shacks. You'll need Cow Lillies and Wood.
Reward After Completing Froggie Went A-Courting: A Little Privacy
1 Favor, 50 Xp and 550 Coins