Farmville 2 Fun Raiser: Catch That Kid
A runaway goat! .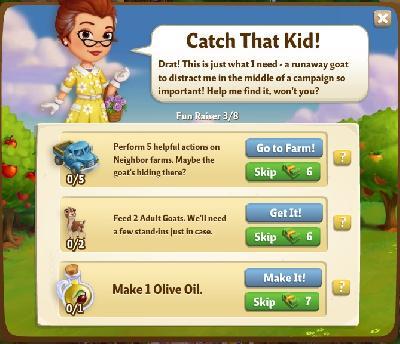 Task 1: Perform 5 helpful actions on Neighbor farms. Maybe the goat's hiding there?
Solution: Go to neighbor farms and help 5 times.
Task 2: Feed 2 Adult Goats. We'll need a few stand-ins just in case.
Solution: Feed 2 goats.
Task 3: Make 1 Olive Oil.
Solution: Go to kitchen and make 1 Olive Oil. You'll need Olives and flasks (ask friends)
Reward After Completing Fun Raiser: Catch That Kid
1 favor, 1 white napkin, 40 xp and 400 coins