Farmville 2 Fun Raiser: Shuck A Rug
Zi-no, Zag Rugs! .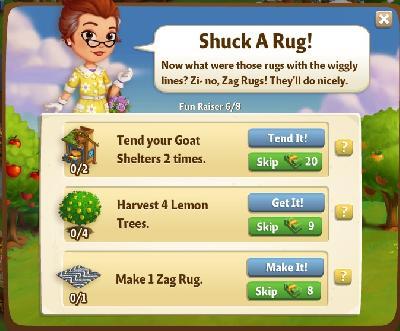 Task 1: Tend your Goat Shelter 2 times.
Solution: Feed your goat shelter 2 times.
Task 2: Harvest 4 Lemon Trees.
Solution: Water and harvest 4 Lemon Trees. ready in 12 hours.
Task 3: Make 1 Zag Rug.
Solution: Go to workshop and make 1 Zag Rug. You'll need Margenta Dye and wool padding.
Reward After Completing Fun Raiser: Shuck A Rug
1 favor, 1 white napkin, 70 xp and 650 coins