Farmville 2 Holiday Stocking: Storing Up
The Sunny Grocery is small and personal!.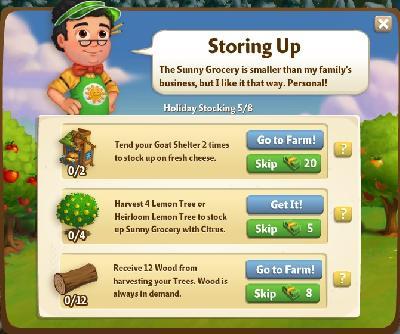 Task 1: Tend your Goat Shelter 2 times to stock up on fresh cheese.
Solution: Feed your Goat Shelter 2 times.
Task 2: Harvest 4 Lemon Trees or Heirloom Lemon Trees to stock up Sunny Grocery with Citrus.
Solution: Water and harvest 4 Lemon tree, ready in 12 hours
Task 3: Receive 12 Wood from harvesting your Trees.
Solution: Harvest trees that give wood and collect 12 pieces.
Reward After Completing Holiday Stocking: Storing Up
50 XP, 550 Coins, and 2 Holiday Hooks