Farmville 2 Kind of Squirrely: Going Nuts Part 1 of 8
Squirrels are coming.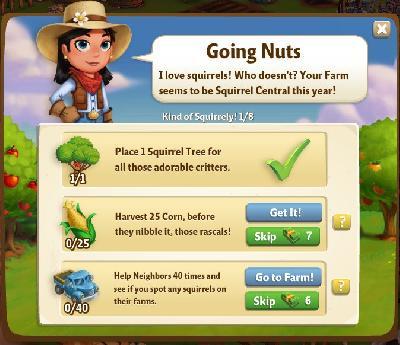 Task 1: Place 1 Squirrel Tree for all those adorable critters.
Solution: Place the tree at your farm.
Task 2: Harvest 25 Corn, before they nibble it, those rascals!
Solution: Click an empty plot and then corn. Corn grows in 2 minutes.
Task 3: Help Neighbors 40 times and see if you spot any squirrels on their farms.
Solution: Go to your neighbors and help 40 times.
Reward After Completing Kind of Squirrely: Going Nuts Part 1 of 8
Reward After Completing Kind of Squirrely: Going Nuts Part 1: 30 Xp and 300 Coins