Farmville 2 Ladybug Tea Party: Tidy Tea
Clean up! .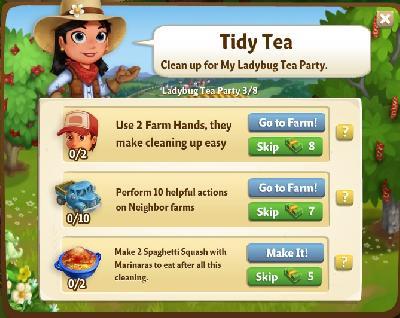 Task 1: Use 2 Farm Hands, they make cleaning up eazy.
Solution: Use 2 neighbours farmhand help.
Task 2: Perform 10 helpful actions on Neighbor farms.
Solution: Go to neighbor and help 10 times.
Task 3: Make 2 Spagetti Squash with Marinas to eat after all this cleaning.
Solution: Go to kitchen and make Spagetti Squash with Marinas. You'll need Spagetti Squash and tomato paste.
Reward After Completing Ladybug Tea Party: Tidy Tea
1 Favor, 40 xp, 400 coins and 1 Lady bug