Farmville 2 Mayor May Not: A Good Impression
Make the place shine!.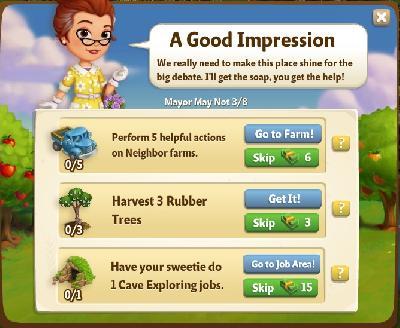 Task 1: Perform 5 helpful actions on Neighbor farms.
Solution: Go to neighbor and help 5 times.
Task 2: Harvest 3 Rubber Trees
Solution: Water and harvest 3 Rubber Trees. Ready in 4 hours
Task 3: Have your sweetie do 1 Cave Exploring jobs.
Solution: Get your sweatheart to do 1 Cave exploring job
Reward After Completing Mayor May Not: A Good Impression
1 favor, 40 xp and 400 coins