Farmville 2 Mayor May Not: Souvenir Of The Year
See if you can make something on-topic.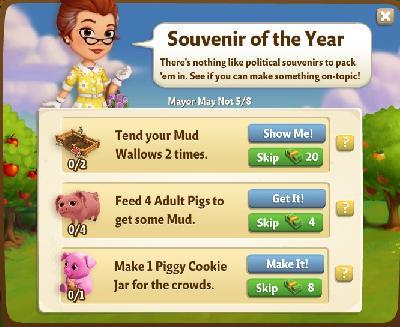 Task 1: Tend your Mud Wallows 2 times.
Solution: Collect from Mud wallow when ready, 2 times
Task 2: Feed 4 Adult Pigs to get some Mud
Solution: Feed 4 pigs
Task 3: Make 1 Piggy Cookie Jar for the crowds.
Solution: Go to crafting kiln and make 1 Piggy Cookie Jar. You'll need Terracotta and Fired Glass
Reward After Completing Mayor May Not: Souvenir Of The Year
1 favor, 50 xp and 550 coins