Farmville 2 No Grain, No Gain: Quickie Coins
Grow plant and gain profit..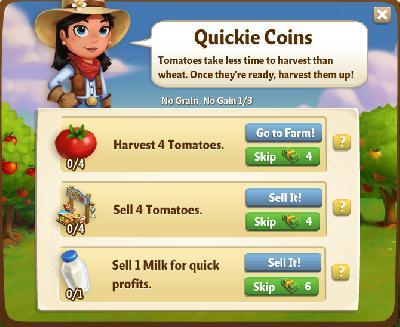 Task 1: Harvest 4 Tomatoes.
Solution: Buy tomato seeds in the store and plant them in open plots.
Task 2: Sell 4 Tomatoes.
Solution: Click on seeded plots to water them. Hold the mouse button down on tomatoes in the market stand to mark many for sale quickly.
Task 3: Sell 1 Milk For Quick Profits.
Solution: Feed goats to get milk.
Reward After Completing No Grain, No Gain: Quickie Coins
Reward after Completing Farmville 2 No Grain, No Gain: Quickie Coins Part 1 of 3: 2Xp and 50