Farmville 2 Ostrich Optimization: Ostrich Foot Wear
Help Walter construct sturdy racing shoes!.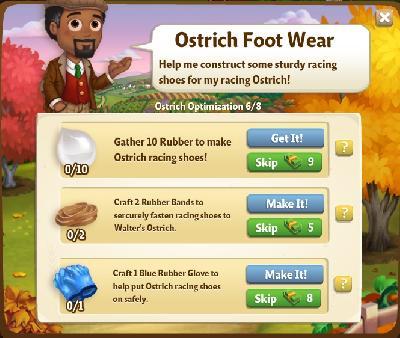 Task 1: Gather 10 Rubber to make Ostrich racing shoes!
Solution: Harvest rubber trees and collect 10 rubber.
Task 2: Craft 2 Ruber Bands to sercurely fasten racing shoes to Walter's Ostrich
Solution: Go to workshop and make 2 Rubber bands. You'll need rubber
Task 3: Craft 1 Blue Rubber Glove to help put Ostrich racing shoes on safely.
Solution: Go to workshop and make 1 Blue rubber glove. You'll need rubber and blueberry dye
Reward After Completing Ostrich Optimization: Ostrich Foot Wear
1 favor, 70 xp and 650 coins