Farmville 2 Owl Be Back: Winter is coming
The Parliament also marks the coming of winter!.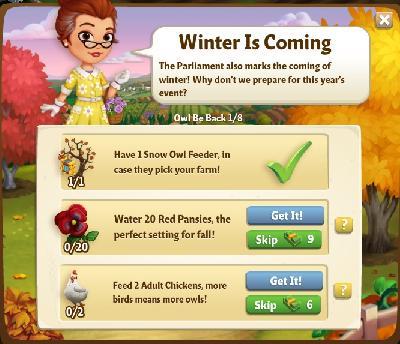 Task 1: Have 1 Snow Owl Feeder, in case they pick your farm!
Solution: Place the Snow owl feeder at your farm
Task 2: Water 20 Red Pansies, the perfect setting for fall!
Solution: Plant and water 20 Red Pansies
Task 3: Feed 2 Adult Chickens, more birds means more owls!
Solution: Feed 2 Chickens
Reward After Completing Owl Be Back: Winter is coming
1 favor, 30 xp and 300 coins