Farmville 2 Party People: Lather Is The Best Medicine
It's nearly dessert time!.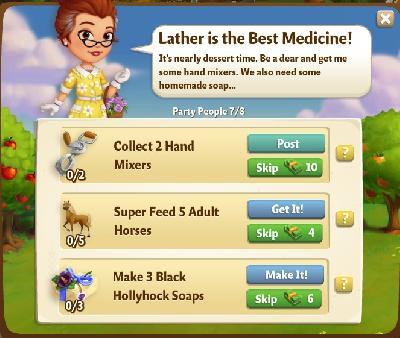 Task 1: Collect 2 Hand Mixers.
Solution: Ask friends.
Task 2: Super Feed 5 Adult Horses
Solution: Feed 5 horses with super feed.
Task 3: Make 3 Black Hollyhock Soaps.
Solution: Go to workshop and make 3 Black Hollyhock soaps. You'll need Hollyhocks and Lye.
Reward After Completing Party People: Lather Is The Best Medicine
2 favor, 165 Xp, 925 coins and 2 merit badges