Farmville 2 Petting Zoo Hullabaloo: More Decor
We need to brighten up the zoo!.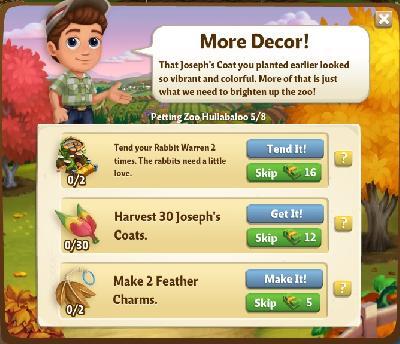 Task 1: Tend your Rabit Warren 2 times. The rabbits need a little love
Solution: Feed your rabbit warren 2 times.
Task 2: Harvest 30 Joseph's Coats.
Solution: Plant, water and harvest 30 Joseph's Coats. ready in 15 hours
Task 3: Make 2 Feather Charms.
Solution: Go to workshop and make 2 Feather charms. You'll need wool treat and brown feathers
Reward After Completing Petting Zoo Hullabaloo: More Decor
1 favor, 50 xp and 550 coins