Farmville 2 Raising A Ruckus: Bath Time's A Ruckus
We need little baby towels!.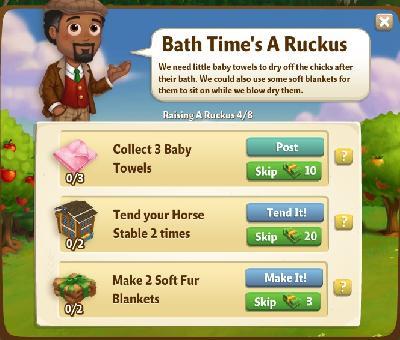 Task 1: Collect 3 Baby Towels.
Solution: Ask friends.
Task 2: Tend your Horse Stables 2 times.
Solution: Feed your horse stables 2 times.
Task 3: Make 2 Soft Fur Blankets.
Solution: Go to workshop and make 2 soft Fur Blankets. You'll need fur and fine wool.
Reward After Completing Raising A Ruckus: Bath Time's A Ruckus
1 Favor, 50 Xp and 304 coins