Farmville 2 Raising a Ruckus: Quite A Ruckus
Do you have any more of that delicious eggplant?.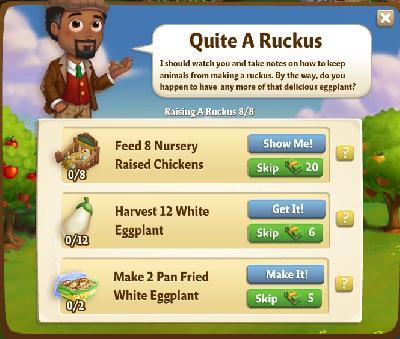 Task 1: Feed 8 Nursery Raised Chickens.
Solution: Raise chickens with nursery and feed 8 times.
Task 2: Harvest 12 White Eggplant
Solution: Plant, water and harvest 12 White Eggplants. ready in 12 hours.
Task 3: Make 2 Pan Fried White Eggplant.
Solution: Go to kitchen and make 2 pan fried white eggplants. You'll need white eggplants and broth.
Reward After Completing Raising a Ruckus: Quite A Ruckus
2 Favors, 150 Xp and 1700 coins